'Godzilla vs. Kong' trailer: two gods are at war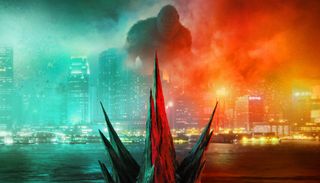 (Image credit: Legendary)
The main event is finally here—the Godzilla vs. Kong trailer was released today, and it looks as epic as their fights have historically been. In the upcoming installment of the Warner Bros. and Legendary Pictures' franchise, humanity is once again front row center to reap what they've sowed. And, of course, the response to that is to wipeout Godzilla and Kong. Thankfully it appears they both have humans in their corners who don't want to see that happen. Godzilla and Kong were both minding their kaiju business in their respective movies before humans came along being all disruptive and destructive.
Kong is the star of this trailer. No shade to Godzilla, but Kong deserves the same amount of respect as the king of lizards. Kong: Skull Island showed us the legend himself is a heavyweight in his own right, and like Lord Frieza, he wasn't even in his final form. Well, in this trailer looks like Kong has been putting in work in the kaiju gym, even befriended, and has assumed the role of protector of a small human child in the process. Public relations wise, Kong might be the more marketable of the two.
Godzilla has been at the center of nothing but utter chaos in Godzilla and Godzilla: King of the Monsters, but at no fault of this magnificent titan. If anything, Godzilla deserves a vacation. He has been working triple shifts putting all the monsters the humans just had to wake up to sleep. He even lost a friend in the process. RIP Mothra. In the trailer, it's hinted there may be something horrifying causing Godzilla to attack, and it's probably humanity's fault yet again.
There are some great action moments teased between these two in the trailer. Unfortunately for Godzilla, it looks like Kong has been training for this fight all his life. Kong has obviously been looking at ancient cave artwork of Godzilla's fights because the trailer shows him responding without hesitation to Godzilla's favorite go-to move. There will be no catching Kong off guard more than once with that nuclear breath Hadouken. Godzilla might need to hang it up, no flatscreen.
It would be nice if these two could team up to wipe humanity off the face of the earth. Again, we're here probably due to something we've done, but we'll have to wait until March 26th to find out. Hopefully, Mille Bobby Brown's character, Madison Russell, learned a thing or two about what not to do from her mom. She and a few other familiar faces from previous franchise installments show up in the trailer as well, and it will be interesting to see who they said with because Godzilla and Kong might be the least of their worries.
The Godzilla vs. Kong cast also includes Demián Bichir, Brian Tyree Henry, Zhang Ziyi, Eiza Gonzalez, Lance Reddick, Jessica Henwick Julian Dennison. Max Borenstein, who wrote Godzilla and Skull Island, wrote the Godzilla vs. Kong script with Black Widow scribe Eric Pearson. The movie will be available to stream on HBO Max on March 26th, 2021.
Get the latest updates, reviews and unmissable series to watch and more!
Thank you for signing up to Whattowatch. You will receive a verification email shortly.
There was a problem. Please refresh the page and try again.