Gogglebox star Dom Parker: Why are we scared of medicinal cannabis?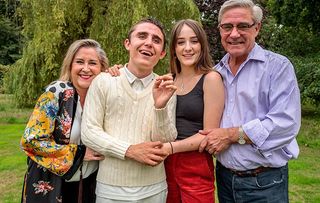 (Image credit: C4)
Dom and his wife Steph open up on their battle to help their epileptic son in a moving C4 documentary, Steph and Dom: Can Cannabis save our son?, which is on tonight at 9pm
Millions of TV viewers fell in love with Steph and Dom Parker as they amused the nation with their funny banter on hit C4 reality series Gogglebox, yet very few people know about the pain the married couple live with every day…
In this moving documentary, the Gogglebox pair introduce their 18 year-old son, Max, who's had a severe form of epilepsy since he was four months old and has been left brain damaged by countless seizures.
The teenager has been on heavy medication for most of his life, yet none of the drugs he's been prescribed have successfully brought his condition under control and the Parkers know a large seizure could kill him at any time.
Desperate to help their son, Gogglebox stars Steph and Dom are now investigating whether cannabis oil might be able to finally answer their prayers and improve his quality of life. Yet is the product that some have called a miracle cure all it's cracked up to be?
We spoke to Gogglebox star Dom to find out more about Steph and Dom: Can Cannabis save our son?
What made you decide to make this documentary?
Dom: "We've made a point of keeping Max and his condition private from the media, because we didn't want him to be involved in that part of our lives, but we thought if ever there was a time for us to open up and draw attention to a product that could make a huge difference – this was it!"
How did you find the process of making the documentary?
Dom: "It was tougher than we expected, because we had to relive some hideous experiences from down the years, but it was also very cathartic to put those memories to bed. We think Max would be very proud if this could make a difference in some way and help other people."
Did you meet any people who've used cannabis oil during the documentary?
Dom: "We met a few familes who've used cannabis oil with great success, including a young man in America called Sam whose seizures have completely stopped. He explained that he had no memory of his seizures, which was comforting in some ways, but hard in others because you worry that means Max doesn't remember other things. It gave us plenty of food for thought and hope for the future, because it showed how effective cannabis oil can be, in the right conditions."
Do you think there's still a stigma attached to medicinal cannabis in this country?
Dom: "Yes I do, although I'd call it fear and ignorance, pure and simple. Cannabis oil might be extracted from the same plant as marijuana, but it contains no THC, which is the psychoactive substance that gets you high when you smoke it. It's like a stinging nettle without the sting. Indeed if you wanted to get a buzz, you'd be better off drinking a bottle of night nurse than a pint of cannabis oil. What are we scared of?"
You must have been pleased when cannabis oil was legalised for medicinal purposes in the UK last year?
Dom: "I was, but in reality it's still impossible to get a prescription for it. There are still lots of decisions that need to be made about its production and regulation, which means it won't be around for months or years in this country. It's very frustrating for us and others in the same position. Rather than the final hurdle, it's just another step on the journey, but we won't give up."
What are your hopes for the future?
Dom: "The reality for us is that every night when we say goodnight to Max, we know there's a chance he might have a seizure that might kill him, which is horrible. The drugs he's on at the moment might be saving him from that big seizure, but there's a chance they're making his situation worse as they're mind altering. I know cannabis oil can't reverse the damage, but I'm convinced it can save Max's life and improve his condition. If we could reduce his seizures and have a proper conversation with him for the first time, I'd be the happiest man in the world."
Get the latest updates, reviews and unmissable series to watch and more!
Thank you for signing up to Whattowatch. You will receive a verification email shortly.
There was a problem. Please refresh the page and try again.