Gotham star Sean Pertwee: 'Why I'll never play Doctor Who'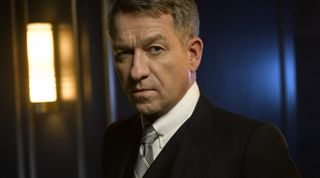 British actor Sean Pertwee has been busy promoting the second season of Gotham, the US drama which focuses on James Gordon before he became the city's police commissioner and Batman's confidant. in which he plays which begins on Channel 5 next week
In the series, which is based on DC Comics' Batman characters, young Bruce Wayne – Batman's alter ego – is portrayed by Touch star David Mazouz, while Sean stars as his hard-nosed butler, legal guardian and mentor Alfred Pennyworth.
Born in London, Sean toured with the Royal Shakespeare Company before landing various TV roles in series including Agatha Christie's Poirot, Cold Feet and The Tudors. His role as Alfred is the latest addition to a CV that spans almost 30 years.
Doctor Who's Jon Pertwee and Elisabeth Sladen (BBC/PA)
For now, he is happy to be working on a big-budget US television series, but when asked if he intends to follow his late father, Jon Pertwee, on to the BBC's Doctor Who, he responded firmly in the negative.
http://www.youtube.com/watch?v=nL-tSQvYGP8&feature=oembed
"Too big boots to fill. I could never do that. I'd love to, at some point in my life, do something as an ode to my father and also as an ode to the show. It's an institution, it something that makes you proud to be British.
"But how can you top my dad? You can't. He was my Doctor Who."
Sean Pertwee as Alfred Pennyworth in Gotham (Channel 5)
Talking about the second season of Gotham, Sean says fan's won't be disappointed by what's in store for James, Bruce, Alfred and the other characters.
"It's less stand-alone episodically compared to the last season," said Sean during an interview with the Press Association. "There are bigger story arcs of four or five episodes so you'll get interaction with a lot of the characters now.
"It feels cinematic, it's got a confident gait now. You won't be disappointed – we're very, very, proud of it."
http://www.youtube.com/watch?v=A2n1I-ZW0wE&feature=oembed
Reaction to the first season was mixed, with New York Magazine calling Gotham "a mishmash of current action and comic-book-movie cliches" and The Huffington Post dismissing it as "too dour".
British showrunner Bruno Heller acknowledged the mistakes made in the premiere run.
"We tried to tell too many stories," he conceded. "This season, we're able to sharpen the focus."
http://www.youtube.com/watch?v=Tb9bfiGJQzo&feature=oembed
Sean said he hoped aficionados on this side of the pond will like what they see.
"It's our world that we're letting people into and the fans have been extraordinarily flattering to us in America so far. I think the English fans will follow suit."
The first season concluded with a turf war, resulting in The Penguin (a scene-stealing turn from Robin Lord Taylor) battling his way into power over Gotham's underworld.
http://www.youtube.com/watch?v=pWMo-jIj5us&feature=oembed
In season two, which has been themed Rise Of The Villains, Gotham will continue to follow the evolving stories of the city's most malevolent miscreants.
There is an increased scrutiny on old favourite Edward Nygma/The Riddler (Cory Michael Smith).
Meanwhile, billionaire industrialist Theo Galavan (played by British actor James Frain) and his sister Tabitha Galavan, also known as Tigress (Jessica Lucas), are new to Gotham.
Sean Pertwee as Alfred Pennyworth and David Mazouz as Bruce Wayne (Channel 5)
Talking about developments for his own character, Sean said: "Alfred is unleashed in season two and you'll see why he was employed by the richest man in the world."
Since signing on for Gotham, he has been based in New York.
Sean Pertwee in Gotham (Channel 5)
Asked to account for the growing number of British stars across the Atlantic, Sean said: "I really don't know."
He added: "I don't want to take anything away from the brilliance of Americans, but it's just strange there are so many of us there.
"The bizarre thing is there's lots of actors of my generation: Lennie James, Damian Lewis, James Purefoy, Mark Strong – there's so many of us. It must be chance or maybe our theatre background."
Gotham: Rise Of The Villains starts on Channel 5 at 10pm on 11 January.
Get the latest updates, reviews and unmissable series to watch and more!
Thank you for signing up to Whattowatch. You will receive a verification email shortly.
There was a problem. Please refresh the page and try again.