Grease legend Didi Conn talks Dancing on Ice rivals: 'At my age, the biggest competition I have is against Old Father Time!'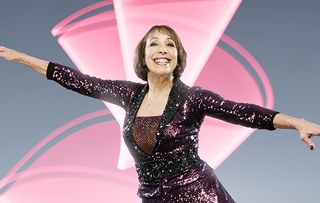 (Image credit: ITV)
Grease legend Didi Conn talks getting her skates on for Dancing on Ice…
There can't be a person in the land who hasn't seen the smash-hit musical movie Grease. While the film – released in 1978 – centres on the love story between John Travolta's cool dude Danny Zuko and Olivia Newton-John's shy, exchange student Sandy Olsson, it was Sandy's best friend Frenchy – and her bright pink hair – who truly warmed our hearts.
And we fell in love all over again when it was announced that Frenchy herself – actress Didi Conn – would be among the line-up for this year's Dancing on Ice.
With Grease giving us such classic songs as Summer Nights and You're The One That I Want, it was only right that Didi's first routine last Sunday was to the film's rousing number, We Go Together.
TV Times called our favourite 'Pink Lady' Didi Conn, 67, in her native New York prior to the show's launch, to talk about her ice-dancing 'adventure' and being a movie icon…
What made you want to sign up for the show?
Didi Conn: "Well, first of all, I love being in England, I just adore it and the people are wonderful. I've never ice-skated before and the producers asked me: 'Would you want to learn?' I'm always up for learning something new but I didn't realise how hard the ice is and how difficult it would be. When I first entered the rink I had a spectacular fall the minute I got on, so I initially thought: 'I'll say yes to the dress but I don't know about this ice-skating!'"
How's training been going?
"My dance partner Lukasz Rozycki is terrific – I call him 'Lucky Lukasz'. He's got such energy and patience and he's fun to be with. Sometimes I like to see if I can do any dance steps on the ice without falling down and he goes right along with me. When people first mentioned doing lifts I was like: 'Lifts? Tricks? You've got to be kidding me!' I was just about skating back and forth!"
Were you pleased to hear that your first Dancing on Ice routine was going to be to the song We Go Together from Grease?
"Oh yes, I was so happy to know I was going to be dancing to something familiar. I didn't know what we were going to do skating-wise – but at least I knew the words to the song! And, of course, I still have my original Pink Ladies jacket from the movie with mustard stains on it!"
How do you feel about being critiqued by the judges?
"At my age, the biggest competition I have is against Old Father Time! I have certain goals and if I don't concentrate or pay attention I'm going to get upset and then, of course, the judges will recognise that. I've got a very good work ethic in terms of commitment to what I do and I have a lot of grit. So if I pay attention and do the best I can do, that's all I can hope for."
Grease marked its 40th anniversary last year. What's your fondest memory of making that movie?
"That has to be the two days I had my own sound stage at Paramount Studios when they filmed the scenes for the song Beauty School Drop-Out. Having Frankie Avalon, all dressed up in those tight pants, coming down the stairs singing to me, it was not too hard to start drooling! That morning, I had put on the pink wig for the first time as Frenchy and I looked in the mirror and thought: 'Oh my God!'"
Do people still recognise you as Frenchy?
"Oh yeah, especially when they hear my voice. I know Grease is still such a phenomenon; people just love that movie. It makes people happy and that makes me happy. People seem to like the character of Frenchy because she was such a good friend. At the end of the movie, we say we'll always be together and Olivia and I are still good friends, so it's true. It's very special."
So the two of you are still in touch?
"Oh yes, all the time. Olivia's quite something. She's working through a little bump in the road right now – but she's a survivor and a thriver."
You live in New York. How are you feeling about spending winter in England?
"The biggest challenge for me doing this show will be being away from home because I've never been away from home this long. I had to commit to 10 weeks… even if I don't make it that far! I have a son who's autistic and he doesn't know how long I'm going to be away yet. I've got to get him used to the telephone; he doesn't like the telephone much."
What do you like about England? Do you think you'll get to go sightseeing?
"I love the history, the brilliant writers, everything. I get blown away when I'm in England. America is such a 'young' country and I go to England and into churches from the 13th century and I'm like: 'What? That's crazy!' I doubt I'll get to do much sight-seeing because we'll be working every day, with one day off, so I know I'll be pooped!"
What are you hoping to achieve from being on this show?
"I have three brothers and a very protective husband and I've had to promise them that I'm going to be safe, so it's going to be a 'PG' adventure. I think 'an adventure' is a good way to describe it and I also see it as a bit of a challenge. I just hope to be able to push the envelope a little bit in terms of what I physically can do. I hope my body can respond to what my mind wants it to do!"
Dancing on Ice, including Didi Conn, continues on Sunday at 6pm on ITV.
Get the latest updates, reviews and unmissable series to watch and more!
Thank you for signing up to Whattowatch. You will receive a verification email shortly.
There was a problem. Please refresh the page and try again.