Check out Great British Bake Off winner Teri Hatcher's YouTube channel!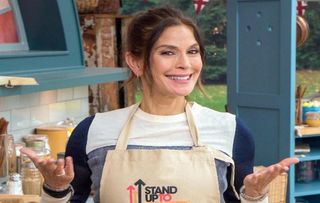 It's like a real-life episode of Desperate Housewives as actress Teri Hatcher gets cooking in the kitchen with her real-life daughter, Emmerson!
Teri Hatcher is our new favourite foodie since she won Channel 4's The Great Celebrity British Bake Off in aid of Stand Up To Cancer.
So if you want to see what the former Desperate Housewives star is cooking-up next in the kitchen, you can check out Teri's own YouTube channel, Hatching Change.
She launches new videos on the channel every Wednesday and Sunday which are all about making positive changes in your life. And in the latest video, Teri's in the kitchen with her real-life daughter, Emerson, talking about college students and the temptations of junk food.
"For a while now you've been hearing me talk about being more aware of the foods we are eating and what we are putting in our bodies," says Teri. "Today I am with my daughter, Emerson, to talk about how she, as a college student stays away from eating "IT" out of a box. There are misconceptions about what is healthy and what is not, and here we are going to dive into that a bit further."
https://youtu.be/SzdxUUWxqVY
Get the latest updates, reviews and unmissable series to watch and more!
Thank you for signing up to Whattowatch. You will receive a verification email shortly.
There was a problem. Please refresh the page and try again.