Has Paloma Faith found a singing partner in the penultimate round of The Voice's auditions?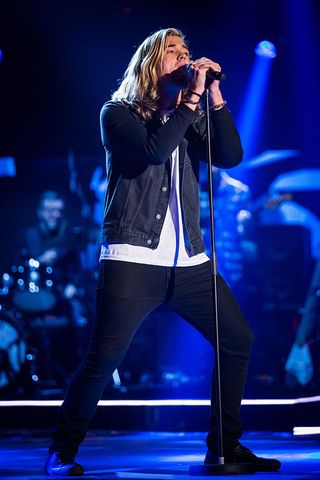 (Image credit: BBC / WALL TO WALL / GUY LEVY)
The Voice reached the next to last round of the Blind Auditions with all of the coaches still looking for acts to add to their teams… And they all found themselves spinning their chairs.
Paloma Faith (opens in new tab) won three new contestants and the performer who excited her most was Rick Snowdon, 29, a singer-songwriter from Hartlepool.
Rick sang "I Put A Spell On You" in what will.i.am described as an "aged whisky voice".
Paloma can't wait to sing with Rick Snowdon
Paloma and Boy George turned at the same time, with Ricky Wilson turning right at the end of Rick's performance, after making loads of notes.
"How did you find out you had that voice?" Paloma asked Rick.
"I was overweight. At 22 I weighed 26 stone. I locked myself in my house for the best part of four years and found music," Rick revealed. "I taught myself to play guitar and started to sing. But no one wants to see a 26 stone rocker. I want to inspire people now that I've lost the weight."
"I'm so glad you did that. You sound phenomenal. I would love to sing with you," Paloma told Rick. "On this show or whatever."
"You're a flippin' 10, man," added Ricky.
"I had to turn because I think you're a great singer," George told him.
But Rick chose Paloma as his coach.
"I'm looking for someone to bring out the performer me, so it's going to have to be Paloma," he told the panel.
Joining Rick on Team Paloma are supermarket worker Theo Llewellyn, 26, who sang "Sweet Love", and JJ Soul, who sang "What's Going On".
Theo got Ricky and Paloma to turn for him
"I'm a sucker for a voice like yours," Paloma told Theo. "It's beautiful."
"It's one of my favourite songs," Will added, "but you gave it too much noodle neck [riffing]."
Ricky (opens in new tab) also turned for JJ Soul, telling her: "You're right up my street. Not a lot of singers on this show have that thing that makes them a star. You have it. I hope Paloma messes up her pitch."
But Paloma didn't.
Ricky thinks JJ has star quality – but she chose Paloma as her coach
"I'm somebody who likes to push boundaries," she told JJ. "I'd like to take you somewhere not necessarily safe but exciting, so even you are surprised by what you're doing."
And JJ decided she wanted to go with Paloma.
Ricky did win two spins, though… Mia Sylvester and Jolan.
Mia had Ricky in a spin immediately
He got a charge from electrician Mia, 28, who sang "Ain't No Way" and spun round, then stopped Paloma turning.
"You sang your socks off," Ricky told Mia. "I don't have to say why I turned, you've just shown us all."
Jolan, 21, was making his second appearance on The Voice, having competed two years ago. No chairs turned then, "but I'm more prepared this time", Jolan said.
Ricky told Jolan his performance was "flawless"
"I think my voice has improved. A lot's changed. My mum passed away; she was with me at my audition two years ago. I'm doing this for her. I have to prove I can make them turn."
And three coaches did turn as he sang "Wishing Well". Boy George (opens in new tab) first, Paloma second and then Ricky.
"Flawless," Ricky said to Jolan. "Can't fault it."
will.i.am surprised his fellow coaches with his choice act of the night…
Scott & Vicki are a duo who "think there's a gap for a male/female duo. We don't think there's anybody out there like us," they said, before singing "Fascination".
Scott & Vicki were will.i.am's surprise choice
And Will agreed with them. He was the only coach who turned.
"This show is about variety and I wanted to spice up my team," Will explained.
Then he decided the first thing he needed to do was find Scott & Vicki a new name. So who knows what they'll be called in the next round.
Boy George was the only coach to turn for Eli Cripps, 28, who sang "Real Love" in the Blind Audition.
Eli Cripps turned Boy George with her "androgynous" voice
"I didn't know if you were male or female," George told Eli, after her performance. "You have a slightly androgynous should and I like that."
The final round of The Voice (opens in new tab)'s Blind Audition can be seen on BBC1, Saturday, February 20, 7.30pm.
Click here for our picture special on all the acts who auditioned in this round.
Get the latest updates, reviews and unmissable series to watch and more!
Thank you for signing up to Whattowatch. You will receive a verification email shortly.
There was a problem. Please refresh the page and try again.