Jennifer Kirby: 'Whenever a baby is born in Call the Midwife I still cry!'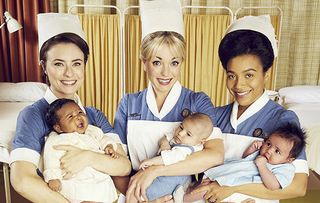 (Image credit: BBC/Neal Street/Nicky Johnston)
Helen George, Jennifer Kirby and Leonie Elliott reveal the heart-warming and heart-breaking stories ahead as Call the Midwife returns
It's 1964 and a wind of change is blowing through Poplar as the nuns and midwives return for the eighth series of BBC1's Call the Midwife and face some challenging new cases.
Here, Helen George, who plays Trixie, Jennifer Kirby, who plays Valerie, and Leonie Elliott, who plays Lucille, tell TV Times what's in store in the new series of Call the Midwife…
TV Times: The new series is set in 1964, what can we expect?
Helen George: "This series is focusing on rights of women, or lack of them. There's an underlying current about abortion, which was still illegal. It's wonderful storytelling. Characters have botched abortions and we see the issues that causes. By the end of the series we get to the root of it." Jennifer Kirby: "Valerie takes it personally and is upset. She gets invested in anything to do with the community, because it's where she's from."
TVT: What other big medical cases are tackled?
HG: "There's the start of the smear test and Trixie's instrumental in pushing for that in Poplar. We also have a baby with a cleft lip and palate and we use an amazing animatronic baby. There's also an issue with a young girl who we find out is a hermaphrodite."
TVT: The series sees Mother Mildred (Miriam Margolyes) send Sister Frances (Ella Bruccoleri) and Sister Hilda (Fenella Woolgar) to Nonnatus House. It is nice to have new faces on board?
Leonie Elliott: "Yes, it's great to have fresh blood. I don't feel as much of a new girl as last year now as I'm in a position where I'm welcoming people. The place also feels fuller now." Jennifer Kirby: "It was getting sparse at the table! So it's nice to have new people. That's how the characters feel as well about having fresh faces and different energy around. They're both really great ladies too."
Call the Midwife is now in its eighth series, what keeps it special for you?
JK: For me, no matter how many times we see it, whenever a baby is born on screen, I cry. There's something about lifting them up, it's just really moving."
Call the Midwife returns on Sunday 13 January at 8pm on BBC1
Get the latest updates, reviews and unmissable series to watch and more!
Thank you for signing up to Whattowatch. You will receive a verification email shortly.
There was a problem. Please refresh the page and try again.