Call the Midwife new series start date revealed - and a royal connection!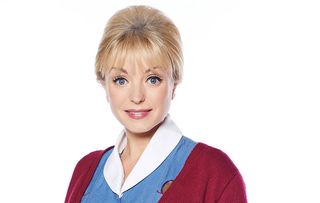 (Image credit: BBC/Neal Street productions)
There's a royal link in the first episode…
Call the Midwife will return for a new series later this month, the BBC has revealed.
The hugely popular BBC1 drama will come back to our screens on Sunday January 13th at 8.00pm.
The first episode will open in springtime 1964 with everyone hugely excited about the impending arrival of the Queen's baby.
Violet hosts a Teddy Bears' Picnic and is raising money by holding a sweepstake on whether the Queen will have a boy or girl – of course we know she had a boy, Prince Edward!
The episode also sees the midwives receiving new midwifery bags but Sister Monica Joan is upset when she sees Fred burning the old leather ones.
Meanwhile, Trixie faces a taxing birth – can Shelagh help out?
Talking about what fans can expect in the new series, writer and executive producer Heidi Thomas says: "1964 was the year that the Greater London Council came into being. We see Violet in particular becoming more involved in local politics, but Dr Turner and Shelagh also seize the opportunities that increased funding brings their way.
"They have the ability to launch new clinics and new initiatives, and become involved in testing the brand new measles vaccine.
"The increased workload at the surgery means they have to hire a new receptionist, the steely but sweet Miss Higgins. I named the character after the first teacher I ever had, at my village school in Yorkshire.
"To my astonishment, on the first day of filming Georgie Glen, who plays her, came out of Wardrobe dressed exactly like the real Miss Higgins, in a green tweed suit and little pancake hat! It gave me goose bumps, it was so magical."
Meanwhile, it's been revealed that over eight million viewers watched the festive special of Call the Midwife on Christmas Day.
Call the Midwife is back on January 13th.
Get the latest updates, reviews and unmissable series to watch and more!
Thank you for signing up to Whattowatch. You will receive a verification email shortly.
There was a problem. Please refresh the page and try again.