Holly Willoughby reveals the SECRET tip she gives This Morning guests!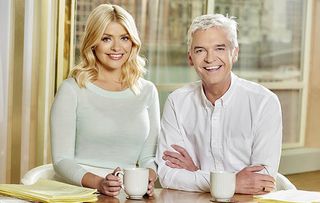 Holly Willoughby and Phillip Schofield tell us what they really think of This Morning, as the show celebrates reaching 30... and Holly tells us how she helps nervous guests!
Some people get the blues when they reach a milestone birthday, but there's no sign of gloominess when we visit the This Morning studios in west London on a sunny Monday in September. Hosts Phillip Schofield and Holly Willoughby are on top form as they cheerily greet us in the green room before telling us about the celebrations in store as ITV's flagship daytime show turns 30 on 3rd October.
Highlights include a one-off documentary narrated by Joanna Lumley, a BAFTA award, and lots of very special guests in the studio.
Here, Phil Schofield, 56, and Holly Willoughby, 37, tell us more...
This Morning's first outing was on 3 October 1988 from Liverpool's Albert Dock, hosted then by husband-and-wife team Richard Madeley and Judy Finnigan. Were you watching the launch?
Phillip Schofield: "Yes, I remember watching This Morning on day one. I was in this building [Television Centre], getting ready for that week's episode of BBC1's Going Live! It's wild to think I watched the first show and I'm now presenting its 30th anniversary!"
Holly Willoughby: "I was seven years old, so didn't watch it at the very beginning, but I do remember watching when I was ill and off school. I was a fan before I was a host. I even tuned in when I was on maternity leave! It was lovely to watch it as a viewer again – it's a special show."
What are your early memories of appearing on This Morning?
Phil: "I remember my first day as a presenter [in 2002] and I was shaking in my boots!"
Holly: "Me too [Holly joined in 2009]. I remember being a nervous guest when I came in to talk to you and Fern [Britton] about Dancing on Ice. It was totally nerve-racking to think, 'I'm on the sofa!'"
Does that experience now help you put guests at their ease?
Holly: "I know what it's like to be a guest on the show, so when someone who's not used to being on TV comes in to share their very personal story and they're nervous, we tell them to ignore the cameras, just look at us, and they'll be fine."
"I feel really proud at the end of our human-interest interviews if a guest says they wanted to tell us their story because they trust us. It's a really lovely thing."
You're celebrating with a special documentary, This Morning – 30 Unforgettable Years, showcasing some of the landmark moments on the programme. Tell us more!
Phil: "All the people involved in the show are coming back and telling stories for the documentary, including Richard and Judy!"
Holly: "It'll be a real nostalgia-fest, with everybody looking back at their favourite moments."
BAFTA is also honouring the show with a special award…
Phil: "It's such a lovely tribute and so special to us. We're lucky to have lots of NTAs up there on the shelf [Phil points to a shelf in the corner of the green room laden with awards, along with super-cute little knitted versions of the hosts!], and a BAFTA is incredible."
Holly: "Knitted me and Phil will be looking after it for extra security!"
So what's the secret to This Morning's success?
Holly: "It feels like anything and everything that goes on in the world tends to end up on our sofa. I love being part of it."
Phil: "It's a juggernaut of a show and it's incredible how it can change at the drop of a hat. I'm in awe of our talented team behind the scenes who can adapt an entire show when something happens."
Holly: "This Morning is like Trigger's broom in Only Fools and Horses, isn't it? It gets a new handle and a new head, but it's still the same thing."
Phil: [Laughs] "I don't think I have ever heard you say that about This Morning before!"
Holly: "I know, it just came to me!"
This Morning will celebrate turning 30 from 1st October at 10.30am on ITV. Documentary, This Morning - 30 Unforgettable Years will air 2nd October at 7.30pm on ITV.
Get the latest updates, reviews and unmissable series to watch and more!
Thank you for signing up to Whattowatch. You will receive a verification email shortly.
There was a problem. Please refresh the page and try again.