In The Flesh star Luke Newberry: 'Kieren's a voice for lots of young people around the world' (VIDEO)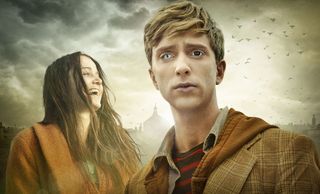 (Image credit: BBC/Des Willie)
What's On TV spoke exclusively to Luke Newberry (opens in new tab) about the new challenges facing teen zombie hero Kieren Walker when the new series of In The Flesh (opens in new tab) kicks off on May 4 (BBC3, 10pm)...


You must be thrilled In The Flesh (opens in new tab) has gone to a second series. How does the story move on for our undead hero Kieren?
"So we left Roarton in the last series where Rick, the friend Kieren loved, has been killed and his only other pal Amy has gone, so Kieren is left bewildered and alone. Series two picks up nine months later and he's really starting to feel better about himself, but there's still a long way to go.
So what plans does Kieren have now?
"He really feels like he needs to get out of Roarton and maybe go abroad to start a new life somewhere where people understand him and know how to deal with people with Partially Deceased Syndrome (PDS). So he thinks Paris! He has a job now at a local legion and has been stashing away money in a shoebox to help him move away."
So is Kieren still with his parents? Are they more comfortable with him being undead now?
"Yeah. I think his mum's always understood him slightly better, but his dad is trying to be a bit more open and not holding things back, saying how he feels. There's a very strong connection between Kieren and his dad, but it's a bit unspoken. It's not that Kieren doesn't want to be with his family, it's just how others are in Roarton."
What about his sister Jem?
"At the start of series two they're a real team. She's the only one he can really confide in now."
Have you got all those rabble-rousers in town again giving Kieren grief? There's a new MP Maxine Martin (Wunmi Mosaku) causing trouble isn't there?
"Roarton's sort of changed a bit but, yes, the new MP is stirring it all up. Maxine kind of shakes up the place. She was born in Roarton but didn't grow up there, so she's like a Roarton girl done good. She's pretends to be nice, but has ulterior motives. She's sort of likeable on the outside, but with these terrifying beliefs as well."
Are there any parallels today viewers could draw between the new MP Maxine and her anti-PDS party with real political parties in Britain today like the BNP and UKIP?
"Yeah. This series being more about what people believe and that people can really truly believe that something absolutely bonkers is true."
This series introduces another new PDS character Simon, played by former Hollyoaks star Emmett Scanlan. Can you tell us about him?
"Amy befriends Simon at a commune, away from Roarton and then returns to Roarton with him. Simon has a belief that Kieren is some kind of godlike figure - the 12th disciple of the 'undead prophet'. It's alarming for Kieren to meet a PDS guy like Simon who's very very OK with himself. While it's scary for Kieren it's also intriguing, because of the confidence Simon has. He's the polar opposite of Kieren, who isn't on Simon's wavelength yet."
Do you find out more about Simon's back-story and how he died?
"With Simon you do, yeah."
In The Flesh has always mixed dark scenarios with humour. Do you think they sit well together?
"It completely flips how you feel all the time. One minute it's hysterical laughter and the next minute you feel a lead weight with all this emotion. The show never feels predictable or that you feel you know what's coming next."
It's great to have expanded to six episodes this series...
"These new characters bring out new challenges for Kieren and we see him act in ways we haven't seen him act before and find new strengths that he didn't know he had to deal with new situations. He starts questioning his beliefs and everything he thought was right. Six episodes gives all the characters space to breathe. It's the same world as before, but just expanded."
Do we ever see Kieren off his meds and going zombie crazy?
"Yeah! There's definitely a rocky moment."
Are viewers around the world relating to Kieren and Roarton?
"It's a fantastical world in the drama that no one's living in, but everyone can relate to as Roarton seems like just a normal place. It's amazing how it's been shown in America, France, China and Australia and many are linking Roarton to a small town they know."
Have you had much response from the many worldwide fans of In The Flesh?
"Kieren's a real voice for lots of young people around the world. I've had letters and really lovely people drawing him and stuff like that. There aren't many role models for teenage males like Kieren, someone you'd look up to when you're growing up. You get superheroes, strong no-emotion guys, but to have Kieren as a hero who's courageous but also emotional, sensitive and damaged is so important for people. He's breaking the mould."
What's the process of putting on all the zombie make-up like?
"You get used to it. There's three make-up states with Kieren. The barefaced state, the moussed state and then the rabid state which involves prosthetics. He's got a different dress sense this time. He's a bit more expressive now."
What were the biggest challenges of filming? And your favourite scenes?
"Biggest challenge was acting in the Lancashire weather! Favourite scenes? I really enjoyed all the studio stuff with Kieren's house because there are so many great scenes between Kieren and his parents which were brilliant to play. It's a bit of an up and down ride still for the family."
Who would you say In The Flesh it aimed at? What's the audience?
"It's aimed at a certain age audience but everyone from all ages can relate to it. It's very real. The humour adds so much to it though."
Were you a fan of the zombie genre?
"As a child I was very much into wizards and witches and the idea of the ageing process and films like Death Becomes Her saying, what if we could live forever? And that's the situation Kieren's in. He doesn't have a time limit. He's 18, he's not going to get older, but his soul is... What do you do with your time when there's no limit on that? I'm not really a zombie fan though."
Is there romance for him this time?
"I'm not saying there isn't! There's an interest... He doesn't start out too confident in himself that anyone would actually like him. It's an undead love. He didn't have much confidence when he was alive. Then there's the question of how would your partner feel about you being undead? Are undead and alive relationships acceptable? That's another message...."
Is this the first TV series you've been in where you're the lead role?
"It's my first lead yes. I did a film called Quartet which was my first film out of drama school. I learnt an awful lot from Dustin Hoffman on that. It was nerve-wracking. I've got The Legend of Hercules coming out soon - I play Kenneth Cranham's slave!"
In The Flesh Series 2 starts on BBC3 at 10pm on Sunday 4 May. Take a peek at the trailer for the new series below...
http://youtube.com/v/S_eiUP43aL8
Get the latest updates, reviews and unmissable series to watch and more!
TV Content Director on TV Times, What's On TV and TV & Satellite Week
I'm a huge fan of television so I really have found the perfect job, as I've been writing about TV shows, films and interviewing major television, film and sports stars for over 25 years. I'm currently TV Content Director on What's On TV, TV Times, TV and Satellite Week magazines plus Whattowatch.com. I previously worked on Woman and Woman's Own in the 1990s. Outside of work I swim every morning, support Charlton Athletic football club and get nostalgic about TV shows Cagney & Lacey, I Claudius, Dallas and Tenko. I'm totally on top of everything good coming up too.
Thank you for signing up to Whattowatch. You will receive a verification email shortly.
There was a problem. Please refresh the page and try again.