Jane McDonald: 'To even be mentioned in the same sentence as Cilla Black is great'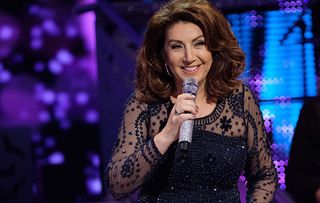 Jane McDonald on the return of her singing spectacular Jane McDonald & Friends, Cilla comparisons and why she's happier than ever after a momentous year
After winning a Bafta in May for her wonderfully addictive travelogue, Cruising with Jane McDonald, now the star's all-singing, all-dancing Channel 5 entertainment show Jane McDonald & Friends is back for a welcome second series.
Here, Jane McDonald tells TV Times what to expect from the return of Jane McDonald & Friends…
TV Times: What's it like to back for another run of Jane McDonald & Friends?
Jane McDonald: "We hoped people would like it; so to come back is spectacular. It's just fantastic, escapist telly with big stars and a fabulous stage. There's something for everybody. I wanted to do feel-good telly that you can watch with your granny or your kids, like we used to have. "
TVT: Does it feel like a big party when you film it?
JM: "My life is a party! I have the same team with me on tour that I have on the show and we have a good time. So get your handbags in the middle of the floor, push the furniture back and just have a blast watching because we do."
TVT: What guests are coming on?
JM: "We've got everybody from Collabro and Billy Ocean to Gwen Dickey from Rose Royce. I also duet with [former EastEnders star] Johnny Partridge and we have Alexandra Burke and the cast of Chicago. But one of the best moments was having Lee Mead on. Watching him sing to the camera was breath-taking, that guy's a star."
TVT: You also salute more unsung heroes with surprises. Did any stand out for you?
JM: "Every one of them. In this world of doom and gloom, to meet these angels is humbling and makes you feel good about the world. One lady in particular runs a bhangra drums group with her community and is a pioneer for Asian women. When you see what we do for her, it's wonderful."
TVT: How do you feel when people compare you to Cilla Black?
JM: "Absolutely honoured. Cilla was the pioneer of television for women; she was the biggest TV person for years so to even be mentioned in the same sentence as Cilla is great."
TVT: Do you enjoy doing the comedy side of the show?
JM: "Oh yes, I do all sort of backstage sketches this time. But I don't even realise I'm funny; it's just my way. As soon as the cameras stop, I don't, so I'm doing my own warm-up with the warm-up guys and talking about how my shoes are killing me. I didn't realise I was that camp until I watched the show!"
TVT: What has it been like since you won the Bafta, do you casually bring it up in every conversation now?!
JM: "Yes, any time I can mention the Bafta, I do! It's an honour to be in that club and something I'll never take for granted. To get accepted into television and get an award like that is wonderful."
TVT: This has been a huge year for you, are you running out of things to tick off your bucket list?!
JM: "You must be joking; I've only just started love! You can't hold me back now; I've so many shows lined up including much more Cruising. I've no time to relax. But what a life to be part of?! I'm in a very happy place right now."
Jane McDonald & Friends airs on Friday 6th July on Channel 5.
Get the What to Watch Newsletter
The latest updates, reviews and unmissable series to watch and more!
Caren has been a journalist specializing in TV for almost two decades and is a Senior Features Writer for TV Times, TV & Satellite Week and What's On TV magazines and she also writes for What to Watch.
Over the years, she has spent many a day in a muddy field or an on-set catering bus chatting to numerous stars on location including the likes of Olivia Colman, David Tennant, Suranne Jones, Jamie Dornan, Dame Judi Dench and Sir Derek Jacobi as well as Hollywood actors such as Glenn Close and Kiefer Sutherland.
Caren will happily sit down and watch any kind of telly (well, maybe not sci-fi!), but she particularly loves period dramas like Call the Midwife, Downton Abbey and The Crown and she's also a big fan of juicy crime thrillers from Line of Duty to Poirot.
In her spare time, Caren enjoys going to the cinema and theatre or curling up with a good book.