Jay McGuiness: 'I've become obsessed with Strictly! I'm at the right place at the right time'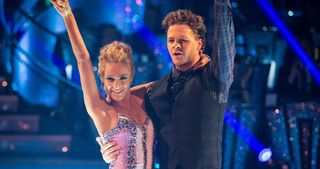 (Image credit: BBC/Guy Levy)
Remember boyband star Jay McGuiness at this year's Strictly (opens in new tab) launch show? Clinging onto Tess for dear life and hiding behind his curly long locks, The Wanted singer was easily the most nervous contestant we've ever seen beneath the glitterballs...
Fast forward a few weeks and look how he's changed! Out of nowhere, Jay, 25 and his professional partner Aliona Vilani, 31 have become hot favourites to win this year's coveted trophy.
When TV Times (opens in new tab) caught up with Jay for a chat, we're relieved to find no lingering signs of stage fright, just sheer enthusiasm to be part of the Strictly whirlwind.
Have you become obsessed with Strictly?
"Most definitely. I love it. I just love waking up and getting straight into the studio, I feel like I'm at the right place at the right time."
How has Aliona helped you banish those crippling jitters?
"There will always be some nerves because you're on the biggest show on telly, but the best thing for me has been having someone to go through the experience with, somebody who is rooting for you. That's what Aliona is giving me.
"It's just like having the boys with you in the band – the support that The Wanted gave me is all on Aliona's shoulders now. Plus, I feel like I know the dances better and I'm excited to show them to people. The excitement takes up more room in my head than the nerves."
Your jive was jaw-dropping. Did this change your outlook in training?
"It was so cool to get the first 10, especially because they threw a party for us when we went to It Takes Two the next week! It was quite surreal though and at the time I didn't really understand how momentous it was.
"Afterwards I noticed it had made people really look twice at me, rather than just waiting for the next person to dance. Now there's definitely an element of wanting people to like each dance as much as that jive."
Aliona regularly puts you through your paces to ensure you shine. Training must be physically tough?
"Any celebrities considering the show in the future really need to think about how fit they are! I'm doing press-ups now as well because I want to be able to do impressive lifts.
"At least now I'm burning off calories by the day I can eat like a horse. If there are any crisps lying around they go immediately, and it's not just me. Aliona is stick thin but she eats all day, I'm not kidding!"
Do you ever come up with new moves for the routines?
"No way! I'm about as creative with choreography as a spoon. Aliona's got more than enough tricks up her sleeve and she pulls awesome ideas out of the bag every week. Sometimes I can't even tell the difference between Latin and ballroom!'
You're not short of admirers and must be used to the attention, but it seems Aliona has become very popular since you've been performing together?
"The Wanted fanbase are definitely still there, showing the love, but there are so many other people who are star-struck by Aliona.
"We were rehearsing at a dance school and when all the little girls in ballet shoes appeared I was obviously expecting a little bit of attention from them, but they walked straight past me and looked at Aliona like she's a goddess!
"Taxi drivers shout at me, there's a group of builders near our rehearsal room who always talk to us and my mum can only go into town with my Auntie Helen now because she gets stopped too many times. She has to make sure she's got her best blazer on before she goes out. It's so different from anything in The Wanted, but I love it."
What has been the best part of the Strictly experience for you?
"The camaradie. I've met people who are going to be lifelong friends, not just Aliona and her husband, but all the other contestants and dancers. If I'm lucky enough to get married one day they'll all be there."
Apparently, you've discovered Len's got tattoos...
"A few weeks ago I was taking to Daniel O' Donnell and Ainsley Harriott about my tattoos and Len called us over. He said, 'I'll show you my tattoos' and I just thought 'Woah, I'm going to see something unbelievable here.
"What he showed me was two tiny dots, one on each shoulder. He was with his mate in Blackpool back in the day, but he couldn't take the pain on either shoulder so he just has these two pin pricks. He's a classy man, it suits him!"
How did you feel about cutting your long hair off for a completely new transformation?
"I was already going to cut it at the end of this year anyway, because I'd grown it to donate to a charity that makes wigs for children with cancer or alopecia.
"It was long enough to donate, so I decided it would be nice to cut it and have a classic hairstyle for the waltz week. I love getting out the shower, shaking myself like a dog and being ready, rather than dripping for 30 minutes!"
You have to make many sacrifices when agreeing to Strictly. Is there anything in particular you have missed?
"The only thing I will say against the show is that I have no time for video games and it's really annoying me! I've been known to play from 7pm until 7am and now I can barely find half an hour. I had to miss the launch of the new Assassin's Creed game because I was training and I haven't even been able to buy it yet, even though it's been out for days. I'm heartbroken!"
Get the latest updates, reviews and unmissable series to watch and more!
Thank you for signing up to Whattowatch. You will receive a verification email shortly.
There was a problem. Please refresh the page and try again.