Call the Midwife star Jenny Agutter: 'I can't swear when I wear my habit!'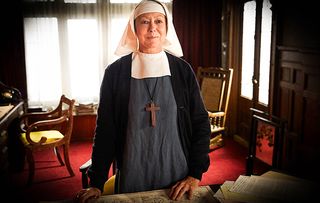 (Image credit: BBC/Neal Street productions)
Jenny Agutter reveals the one thing she can't do while wearing her wimple in Call the Midwife
After seven series of playing stalwart Sister-in-Charge Sister Julienne in BBC1 drama Call the Midwife, Jenny Agutter is still thrilled to be portraying the wise head nun. However, as she reveals to TV Times, there's one drawback to wearing her character's habit…
Here, Jenny Agutter tells TV Times what's in store for Sister Julienne in Call the Midwife…
TV Times What's happening this week?
Jenny Agutter: "Sister Julienne faces a situation outside of her experience. She meets Mumtaz, a lady from Pakistan, who feels sadness because she hasn't had children but then her husband turns up with a young and pregnant second wife. Sister Julienne tries to help the family because her priority is the child. There's also an impasse between her and Sister Monica Joan [Judy Parfitt] who has cataracts but does not want an operation."
TVT Why do you love playing Sister Julienne still?
JA: "Because she remains a puzzle to me. I still don't know exactly who she is and that makes her interesting. Through the stories I find out more about her and her strengths and her humour."
TVT Do you ever get fed up of only having one costume?
JA: "No, it's a huge bonus not spending a lot of time getting into different costumes and because I don't have to wear makeup, I just tuck my face in the wimple! I can't swear when I wear my habit though. It feels wrong and it would shock people, who'd think, 'But she's a nun!' The habit inhibits."
TVT Is it still exciting to work with the babies too?
JA: "Oh, yes, we all go gaga over them. Last series when we filmed Shelagh's [Laura Main] birth we had a tiny baby called Jonathan, which is my son's name, and I got terribly emotional because he was so gorgeous. I wanted to take him away with me - but you can't do that!"
TVT You've had such a varied career but do you enjoy getting recognised for Call the Midwife?
JA: "Yes, because people want to talk about it on such a personal level. They always say how the stories have affected them or how similar circumstances have happened to them or that their relative was a midwife. You feel like you're sharing something with them, which is a nice feeling."
TVT Do you still get recognised for The Railway Children too?
JA: "Yes, it has gone through the generations because people tell me how it has touched their family or how they remember it when they were young, it has history to it. Bernard Cribbins [who played station porter Perks] always rings me on my birthday; he never forgets. He remains as funny as he was when we did The Railway Children and he'd be wonderful in Call the Midwife. We need to find a role for him!"
Call the Midwife continues on Sunday on BBC1 at 8pm
Get the latest updates, reviews and unmissable series to watch and more!
Thank you for signing up to Whattowatch. You will receive a verification email shortly.
There was a problem. Please refresh the page and try again.