'Joanne's convinced Joe will eventually see the light,' says Hollyoaks' Rachel Leskovac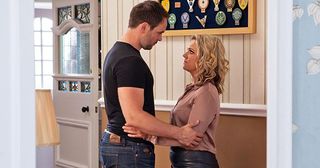 It looked like Joe and Mercedes were going to settle down together in Hollyoaks, then loopy lawyer Joanne decided Joe was the man for her – and she fights dirty
Joanne Cardsley is Hollyoaks' latest bunny boiler – and she has Joe Roscoe in her sights.
Rachel Leskovac tells Soaplife how Joanne is prepared to take on Mercedes McQueen to get her man.
Is Joanne mad or just lonely? "I have to defend her, so I'd say she's vulnerable and emotionally immature. She's not daft. She's a successful lawyer, but she lacks maturity in terms of relationships. The only relationship she's had was with Louis Loveday [Karl Collins]."
Ah, yes. Her affair with yet another woman's man… "He said that he was going to leave Simone [Jacqueline Boatswain] for her. He would have done had their daughter Lisa [Rachel Adedeji] not disappeared."
Joanne must be pleased Mercedes is behind bars? "Yes and she thinks that's where she deserves to be, but she isn't totally without heart. Deep down, she feels a bit guilty. The problem is she's being encouraged by James Nightingale [Gregory Finnegan], who's like a devil on her shoulder."
Why Joe? "In her eyes, Joe [Ayden Callaghan] is the perfect man for her and she's convinced Mercedes is not good for him. He's reliable and a very loving father. He's also very handy. He's a man's man and Joanne's vision of him and her is so brilliant and perfect. She isn't thinking about how it might impact on anyone else. In her mind, Mercedes [Jennifer Metcalfe] is a criminal, so she can't be a good mum or partner. Joanne thinks she's the person to give Joe the stable home life he craves."
So he's perfect… apart from the fact he loves Mercedes. "Exactly! And all Joanne has to do is convince him he can love her instead. It would be so much better for him. She even says to him that she'll be there waiting when it doesn't work out with Mercedes. She's convinced he'll eventually see the light."
How far will Joanne go to get her man? "This is only the beginning! She will do whatever it takes, but then so will Mercedes, which is why this is such a delicious battle."
Hollyoaks, Channel 4
Get the latest updates, reviews and unmissable series to watch and more!
Thank you for signing up to Whattowatch. You will receive a verification email shortly.
There was a problem. Please refresh the page and try again.