John Craven: 'Summertime is a fantastic time of year... if the weather works'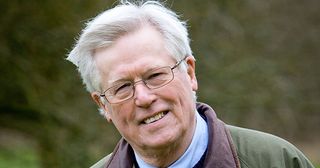 (Image credit: BBC)
Countryfile's John Craven chats to us about the glory of a British summertime and the return of his daytime spin-off, Countryfile Diaries.
The ever-popular Countryfile presenter John Craven is certainly enjoying the belated arrival of some sunshine as he gets ready to host the rural series' seasonal daytime spin-off, Countryfile: The Summer Diaries (Mon-Fri, BBC1, Aug 1-5). Here he tells TV Times about his own summer highlights…
Tell us what's in store on Countryfile Summer Diaries… "We've moved on three months since we did Spring Diaries and the countryside looks very different now so we're looking at the impact of summer on our lives.
"I'm hosting it from the Gower Peninsula in south Wales, which was the first place in the UK to be designated as an area of outstanding natural beauty back in 1956 and it's still beautiful. I can't think of a better place to be. It has lovely beaches, wonderful limestone cliffs and inland you have moorland. There is great surfing, too, but I am a bit old for that these days!"
What stories are you exploring this summer? "All sorts of stories, from Jules Hudson looking at how the rubbish in our seas threatens wildlife to Keeley Donovan examining the effect of the summer weather. Farmers need both rain and sun for crops, but our weather is getting more unpredictable and last year hailstorms devastated crops so we see how one farmer is protecting his harvest."
What do you love about the British summer? "Well, my birthday is in August so I was always the youngest in school, which is a disadvantage especially if you are a slow developer like me! But if the weather is good you can have a nice outdoor summer party.
"Some months you don't want to pull back the curtains but this morning, when the sun came streaming in, it just made me feel better; it's good for the soul.
"I always think of that John Denver song Sunshine on my Shoulders with the line 'Sunshine on my shoulders makes me happy.'"
What one thing encapsulates a British summer for you? "Oh, it's about ice cream and beaches and strawberries and seeing crops growing, there are all sorts of joys to be had watching the countryside in summer. But for me it is all about that sunshine.
"You have the mists of autumn, the snow of winter, the new life of spring, but summer has to be about sun and that is why we often get so disappointed with summer in Britain!"
Where are your favourite places to visit in the summer? "I love Whitby in Yorkshire. I'm from Leeds and as a kid, the whole family went on holiday to Whitby or Scarborough or Bridlington.
"I loved climbing up the 199 steps from Whitby up to the Abbey and playing in the amusement arcades. Years later, my sister and I took our respective children [John has two grown-up daughters with wife Marilyn] to Bridlington and Whitby to the places we'd been to.
"You can always find secret, quiet little places at the seaside. I just love the sea, but I live in Oxfordshire, which is about as far from the sea as I can be!"
You've worked on Countryfile for almost 30 years, what keeps you excited about it? "I just love it and I still learn stuff from it. For the Countryfile Summer Special this Sunday I've been harvesting bulrushes in East Anglia, which is something I'd never done before! I am just so proud of the show and the fact that people say to me, 'Oh I love Countryfile; I never miss it.' There aren't many programmes that people say that about. The countryside is the star of the show though."
You're 76 on August 16, how do you stay so energetic? "Well sometimes I feel exhausted, but not too often! Newsround and all the other children's shows I did like Swap Shop helped to keep me young and now, being out in the beautiful countryside is exhilarating. Getting all over the place keeps me active too and that's important when you are getting on a bit. I'm just incredibly lucky to have this opportunity to still work."
Get the latest updates, reviews and unmissable series to watch and more!
Thank you for signing up to Whattowatch. You will receive a verification email shortly.
There was a problem. Please refresh the page and try again.