Doctor Who guest star Julie Hesmondhalgh: It was my burning ambition after Corrie!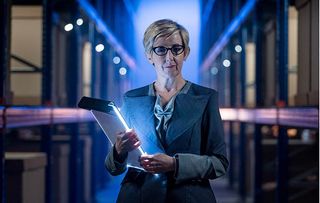 (Image credit: BBC)
Former Coronation Street actress fulfils a childhood wish by stepping aboard the TARDIS…
When she was growing up, Julie Hesmondhalgh dreamed of starring in her two favourite TV shows, Coronation Street and Doctor Who, yet never thought her wish would one day come true!
After spending 16 years playing Weatherfield favourite Hayley Cropper, this weekend she will get to complete her TV bucket list by appearing in the iconic sci-fi series and she's over-the-moon.
Julie stars as a mysterious character in this Sunday's episode, which follows the Doctor and her pals as they head to a warehouse moon orbiting the planet of Kandoka.
We caught up with Julie to find out more about her Doctor Who guest role...
How does it feel to be in Doctor Who?
Julie Hesmondhalgh: "It's something I've always wanted to do and I was so excited to get the part. I'm a massive fan of the show and once I'd done Corrie, it was my burning ambition to be in Doctor Who, but I never thought I would be. My kids were upset when I left Corrie, but being in this has definitely won them back around. We've been watching the series as a family every Sunday and my kids are very excited for this week's episode!"
What are your earliest memories of Doctor Who?
JH: "Jon Pertwee was my first Doctor – that's how far back I go – but Tom Baker was my favourite and that was my era really. I feel like everyone says they hid behind the settee, but I actually did! The Daleks used to scare me to death, every time."
You must have been delighted when you got the call from Doctor Who showrunner, Chris Chibnall?
JH: "It's funny, because when I first got the call about doing Broadchurch from Chris, it had just been announced that he would be taking over Doctor Who, so he kind of mentioned that he'd like me to be in that as well. A two in one special! It was probably the most productive phone call I've ever had in my life, I was like 'I can die happy if that happens!'"
What was it like filming the episode?
JH: "It was amazing and I did stuff I've never done before as an actor. You'll know what I mean when you see the episode! It was hard work though and sometimes when you only have one line in a scene, you get what I call 'One Line Anxiety'. Jodie's reeling off all this dialogue and then you come to your one line that you have to say that day and you worry you're going to mess it up!"
Was it good to work with Jodie Whittaker again after your time together in Broadchurch?
JH: "Yes it was brilliant. Funnily enough I had lunch with her a week before she was confirmed as the new Doctor and when I asked her what she was doing she told me it was really quiet for her at the moment. Then the rumours that she was the frontrunner for the part started and when I text her to ask her if she'd got the role she didn't reply, so I knew something was up. Then it was confirmed the next day and she called me and said it was awful because she just couldn't tell anybody!"
Have you enjoyed her as the Doctor?
JH: "For Jodie to be doing it now is the best thing ever. She's a great actress and a great role model. I'm going to ask for a Doctor Who action figure of her in my stocking at Christmas – that's how excited I am! The series has been brilliant and I think the Rosa Parks episode might be one of my favourites ever…"
Doctor Who continues this Sunday on BBC1.
Get the latest updates, reviews and unmissable series to watch and more!
Thank you for signing up to Whattowatch. You will receive a verification email shortly.
There was a problem. Please refresh the page and try again.