Karren Brady: 'I have no time for The Apprentice losers!'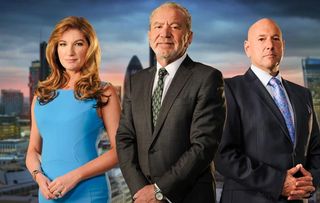 (Image credit: BBC/Jim Marks)
Karren Brady has revealed that she keeps in contact with winning candidates on The Apprentice, which returns on BBC1 next week, but not the losing ones!
Lord Sugar's trusted aides Karren Brady and Claude Littner have given an interview to TV Times about the return of The Apprentice on BBC1 next week and why Karen has no time for losers!
What's the story?
Lord Sugar clocked up his 70th birthday in March but if the notoriously exacting tycoon ever decides to retire from The Apprentice, don't expect to see his steely right-hand woman Baroness Karren Brady taking his seat in the famous boardroom.
'There's no show without him. He does it so well and anybody else would be a poor imitation,' Karren told TV Times (opens in new tab).
And her equally uncompromising fellow aide Claude Littner is not exactly gunning for the top job either. "If anybody took over from him, I can't see it working," said Claude. "He's made it such a brilliant programme."
Thankfully, as the BBC1 reality show returns for a 13th series soon, both Claude and Karren remain in their rightful places as Lord Sugar's eyes and ears and once again they try, and fail, to hide their displeasure at every hilarious error made by the 18 candidates competing for his £250,000 investment in their business.
Here Karren Brady and Claude Littner tell TV Times what's in store in The Apprentice
TVT: Do you keep in touch with any of the candidates afterwards?
Karren: "The winning ones, yes, because I'm always interested in what they're up to but the losing ones, no." Claude: "During the process I barely keep eye contact with them because I don't want anybody thinking I've got a favourite. Sometimes they approach me and say, 'Your hair is looking lush today Claude' but I just ignore them! After the show though, some ask for advice and if it's within my competence, I'm happy to help."
TV Times: What's new this time?
Karren Brady: "We've got a lot of different tasks this year and in the first the candidates literally get their teeth into the fast food industry to produce, make and sell burgers to hungry Londoners, with mixed results." Claude Littner: "There are new dramatic twists to all the tasks this time but in that first one they are like excited puppies so it is pretty chaotic, which makes for a great opener!"
TVT: Do you have a favourite task this year?
Karren: "The interior design task, where they refurbish a bedroom in one of the country's most exclusive hotels. There's no accounting for taste because the results don't look five star, or even one star! They also have to run a doggy day care centre and there might be a task connected to Lord Sugar's birthday… The task where they plan a walking tour of Bruges was also hysterical. They were measuring things on a map with a biro not a ruler so you can imagine what happens! Claude: "Bruges was my favourite because everything that could go wrong did go wrong but you also saw some clever Apprentice thinking amidst the disaster."
TVT: Neither of you holds back from showing your feelings when a candidate makes you angry, what's made you cross this year?
Karren: "There was a bad row between the girls, which got very personal and I didn't like that. There's no place for that behaviour in business. You're not there to win a personality contest; you're there to do a professional job to the best of your ability." Claude: "There are some unforgettable characters but I saw moments too with two intelligent candidates who can't be in the same room together and I don't understand that."
TVT You've both been on the show a long time why do you still love it?
Karren: "It can be exhausting but we all get on so well and you get exclusive access to places you'd never normally see. Also it is incredible to see the transformation in people like last year's winner Alana who was crippled by her lack of confidence but grew in her ambition." Claude: "It's awful when you get up at four in the morning and wander around with the candidates getting frustrated when they make stupid decisions but in a funny way I enjoy it. In spite of all the tension, it's exciting, I have a lot of fun and Karren, Lord Sugar and I just gel."
TVT: After more than 25 years of friendship do you still find Lord Sugar's jokes funny though Claude?
Claude: [coughing theatrically] "I couldn't possibly comment!"
The Apprentice starts on Wednesday 4 October on BBC1 at 9.00pm.
Caren has been a journalist specializing in TV for almost two decades and is a Senior Features Writer for TV Times, TV & Satellite Week and What's On TV magazines and she also writes for What to Watch.
Over the years, she has spent many a day in a muddy field or an on-set catering bus chatting to numerous stars on location including the likes of Olivia Colman, David Tennant, Suranne Jones, Jamie Dornan, Dame Judi Dench and Sir Derek Jacobi as well as Hollywood actors such as Glenn Close and Kiefer Sutherland.
Caren will happily sit down and watch any kind of telly (well, maybe not sci-fi!), but she particularly loves period dramas like Call the Midwife, Downton Abbey and The Crown and she's also a big fan of juicy crime thrillers from Line of Duty to Poirot.
In her spare time, Caren enjoys going to the cinema and theatre or curling up with a good book.
Get the latest updates, reviews and unmissable series to watch and more!
Thank you for signing up to Whattowatch. You will receive a verification email shortly.
There was a problem. Please refresh the page and try again.