Keeley Hawes on Bodyguard: Thank God it's nothing to do with the Whitney Houston film because I can't sing!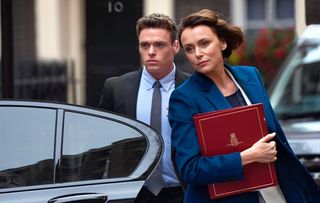 Keeley Hawes talks about her new role in Bodyguard, her big new BBC1 drama which is nothing to do with the 1992 movie The Bodyguard!
Keeley Hawes stands behind the desk of her glass office, a look of concern etched upon her face. She's just been informed of a deadly terrorist attack in London and as Home Secretary, the country will soon be looking to her for answers.
What's On TV is visiting the set of Bodyguard, BBC1's new political thriller from Line of Duty creator Jed Mercurio, and we're hoping Keeley - who is returning for one last series of The Durrells - can recreate the intensity of their first collaboration, when she captivated viewers as DI Lindsay Denton.
In this six-part conspiracy drama the BAFTA-nominated actress plays Julia Montague, a powerful politician whose security is the responsibility of Personal Protection Officer, David Budd (Game of Thrones star Richard Madden). He's sworn to protect her, but could the war veteran actually be her biggest threat?
A heart-stopping start to Sunday night's first episode suggests Bodyguard viewers will be spending plenty of time on the edge of their seats and we spoke to Keeley Hawes to find out more about the much-anticipated drama, which kicks off with a double-helping this week…
Did you wonder if it was a remake of the famous movie with Kevin Costner and Whitney Houston when you first saw the title?
Keeley Hawes: "Everyone asked that and wondered if I was playing the witness. Thank god it's not a new version of that film, because I can't sing a note!"
What can you tell us about Julia?
KH: "Julia is a very serious woman, in an incredibly serious job. She's divorced – although she works alongside her ex, who's also an MP. She has this public façade, but appears to have no life outside work, so we think; 'where's the woman?' But everyone has a story and as the series goes on we start to see chinks in her armour."
How about her relationship with David?
KH: "She's blissfully unaware that he's not that keen on her politics, it's not something they sit and discuss. But it's his job to be in her house and her space all the time, which Julia finds irritating. That's what these people do – they're like ghosts. Then he starts to see that she's a human being and they slowly realise the other one isn't the person they thought they were."
https://youtu.be/jZj4M_Qz-mI
Have you ever had a real life bodyguard?
KH: "No I haven't, but I was staying at a hotel in America recently and there was one waiting outside the room next to mine, wearing a bullet-proof vest. I was a bit worried for the safety and wondered if I should move rooms!"
How did you research the role?
KH: "Julia's purposefully not based on anyone, but Amber Rudd was the Home Secretary when we were filming so I watched a lot of her on YouTube. At least there are women who've done these jobs now, because for a long time playing this role would have been unusual.
"But while I was watching videos of Amber Rudd, I stumbled upon an interview with her sister, who was talking about their childhood together. It was quite moving because you don't think about these people in that way. It opened my eyes and I started to see her as a person."
Did you enjoy playing her?
KH: "I really did, because it was so different to what I've done before. I soon realised that politicians don't have conversations with people, they just tell you what they want you to know, which is a very different thing. Julia does lots of statements to camera and she even goes on The Andrew Marr Show, which was great fun!"
Did Jed have any ideas about how you should play her?
KH: "I used a very posh accent at the start, because I'd just finished playing Mrs Durrell. Jed immediately told me to wind it in a bit!"
Why did you want to take this role?
KH: "Mostly it was working with Jed, I was thrilled when he asked me to read the script, but I didn't really need to read it because I was like; "yeah okay!" before I opened it! He's a brilliant writer who pushes the boundaries of drama."
Were you looking for something different to The Durrells?
KH: "I love the Durrells, but it's a long shoot so it was nice to have a change of scenery. After doing eight episodes in an apron I was ready for something different, so when this came along, with car chases and lots of action, I couldn't wait. I'm very lucky because after Line of Duty, I've had lots of offers for stuff that I wouldn't have had before. It opened new doors for me."
Bodyguard, starring Keeley Hawes and Richard Madden, begins on Sunday 26nd August at 9pm on BBC1
Get the latest updates, reviews and unmissable series to watch and more!
Thank you for signing up to Whattowatch. You will receive a verification email shortly.
There was a problem. Please refresh the page and try again.