Actor Kevin McKidd reveals he gets squeamish filming medical scenes for Grey's Anatomy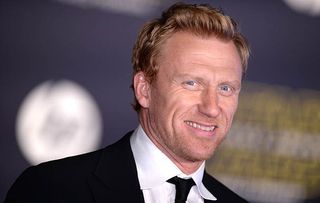 (Image credit: ABACA USA/PA Images)
Grey's Anatomy is back with a new series. Here, Kevin McKidd talks about his role as Owen Hunt in the award-winning American medical drama
As Grey's Anatomy's 13th season gets under way, Scotland-born actor Kevin McKidd talks about his role as maverick surgeon Owen Hunt...
You became an American citizen last year. Do you miss the UK? "I've been living in LA about nine years now, but I do get homesick. I miss the British sense of humour, especially when I go back to Scotland and see all my mates from my hometown. There are a lot of cultural references that just get lost in LA, and I miss actually having proper weather," Kevin, 43, told The Mirror.
You've been playing a doctor for ages now. Could people rely on you for medical help? "No, I'm the worst! I put my stethoscope on the wrong way every time. The on-set medical expert, Linda, will snatch it off me and say, 'You've been doing this eight years and you can't put it on properly!'. She has to show me how to take a pulse every single time. I wouldn't trust me with any medical emergency – if you lost consciousness now, I'd know to roll you on your side and that's about it."
Do you get squeamish in any of the gruesome medical scenes? "Yes, when we're using actual animal parts. We replicate quite a lot of things, but some organs are really hard to replicate, especially if we have to engage with them and cut them. It's not so much fun when it's a real liver or intestines! All the blood is pretend, though, so I don't get grossed out by that."
Why is Grey's so enduring? "We're reaping the benefits of binge watching – really the show should be winding down now, but it's just gearing up again. There's a new generation plugging in. Lots of teenagers are binge-watching so they can catch up and watch the show with their parents on a Wednesday night."
How has Owen changed over the years? "Owen started off as a messed-up trauma surgeon with PTSD, but he's matured a lot, as I have! It's been a bit of a roller-coaster – but that's the whole point of a TV drama. Seeing people too happy on TV for any length of time is the most boring thing."
Grey's Anatomy continues on Sky Living, Wednesday, November 9, 10.00pm
https://youtu.be/GaGIKZpTlww
Get the latest updates, reviews and unmissable series to watch and more!
Thank you for signing up to Whattowatch. You will receive a verification email shortly.
There was a problem. Please refresh the page and try again.