Killing Eve star Jodie Comer admits she RELATES to serial killer alter ego Villanelle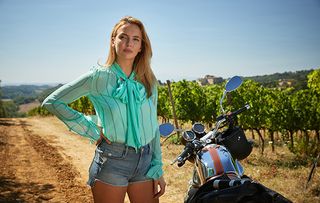 (Image credit: BBC)
'She's brutally honest'
Killing Eve star Jodie Comer has confessed that she relates to her on-screen alter ego, serial killer Villanelle, admitting she has learnt a lot from her character.
The 26-year-old, who is nominated for a Leading Actress award at tonight's Bafta TV Awards, revealed Villanelle has taught her to be 'more honest' with herself.
'I do relate to her. That's what I loved about when I read the script. There were moments where I was like, "I get why she did this"..., Jodie told The Sunday People.
'What I've kind of taken from her and learnt from her is that she's very honest, sometimes too brutally honest.
'That's something I've taken into my own life. I think I'm a lot more honest with myself and my relationships and with how I am.'
Jodie and Sandra Oh play enemies in the hit BBC Three series who have an unhealthy obsession with one another, which starts when Eve tries to capture the criminal assassin.
Jodie's character Villanelle has become so popular, she admitted that fans have put in some very unusual requests when they have met the star off-screen.
'It's been a good year! A lot of people just look at me in a "Is it her" sort of way, but recently I had a really strange one – a woman asked for a photograph with me and then she whispered in my ear, ''Will you strangle me?'' I said, ''No!''' she previously said on The Graham Norton Show.
Meanwhile, Jodie previously admitted she lied to her family to test out how good Villanelle's poker face was.
'One of the most intriguing things about her is her famous poker face,' she told the Sunday Mirror.
'I tested it out on my family to see how credible I was as a liar. I would invent all these absurd stories and tell them about these strange incidents, and they all fell for it. At least almost always.'
Jenni McKnight is a beauty, lifestyle and entertainment journalist, currently US Lifestyle Editor for HELLO! Online. She has also written for HELLO! Magazine, GoodTo, CelebsNow, Daily Mirror and Yahoo! Her first big break came when she interned on the Guilty Pleasures showbiz desk at Metro newspaper. She has since worked on the online lifestyle team at Woman & Home and Woman and was Senior Content Editor at CelebsNow.
Thank you for signing up to Whattowatch. You will receive a verification email shortly.
There was a problem. Please refresh the page and try again.