Kris Marshall reveals he was worried about turning Death in Paradise into a flop!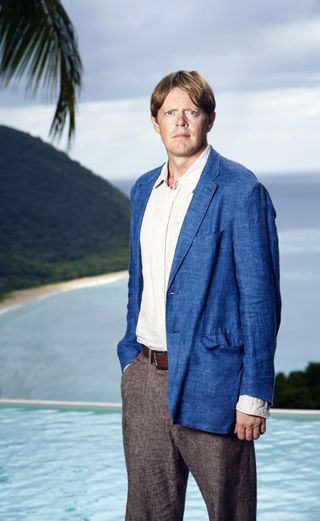 Death in Paradise star Kris Marshall reveals taking over from Ben Miller was nerve-racking. But now he's found his feet romance may finally be on the cards for DI Humphrey and DS Camille Bordey (Sara Martins). Of course, the path to true love is bumpy and littered with absurd murders and a wonderful selection of guest stars in the new series of BBC1's sunshine-filled whodunit. Read our interview with the star here...
This is your second series since taking over from Ben Miller last year. Have both you and your character Humphrey found your feet?
"In terms of Humphrey, absolutely. He's hit his stride now. When I took over from Ben I was worried about turning a show that gets nearly 8 million viewers into a show that gets 4 million. Not a good look for me! Because Ben did the Englishman, fish-out-of-water so brilliantly, I knew I had to come at it from a different angle. Fortunately there are lots of different types of Englishman and lots of different kinds of fish-out-of-water – so Humphrey is just a different fish! It worked better than I could have hoped for, and the series went from 8 to 9 million."
Did you feel less pressure reprising the role for the new series?
"What is lovely about this series is I don't have that pressure of 'I hope I don't screw this up' because, fortunately, I didn't! But there's a different kind of pressure now to move things on and grow the character. It's also really important to keep the show's dynamic with Camille and the rest of the gang fresh too. Humphrey can't just be this guy who falls out of windows."
Now you're more comfortable playing Humphrey will we see another side to his character?
"As this new series goes on you will see a lot happen and a lot change. Both Humphrey and I have really settled into our roles in leading the show. As I've become more confident, he's less manic. I still haven't worked out whether his buffoonery is an affectation to disarm the suspects, or how he actually is. In a way, I don't want it to be an affectation because that would make him darker. But he can turn on a sixpence and be quite nasty to people he believes are guilty of murder – even if, sometimes, they're not. So I'm still finding out what he's all about."
Rising Damp star Don Warrington, who plays Commissioner Selwyn Patterson, is going to feature more this series. What does Don bring to the new dynamic?
"Don's stars a lot more in this series – you can never have enough Don Warrington! I've been lucky enough to work with a few legends in my time and Don is a legend. He anchors the show. He's got a great stillness and coolness to him that's very graceful. It's like he's on wheels – he glides in and he glides out! And he's also very funny. Don and Danny John-Jules, who plays Dwight Myers, have a lot to do this year and they steal the show."
What else is new this series?
"We have two new cast members. Josephine Jobert is a beautiful French actress who plays Florence Cassell. She's a great cast member and Eva Green's cousin! Tobi Bakare also joins later in the series and he's an injection of life into the show. He really brings something to it. And he and Danny are fantastic together."
Now you're back in the UK do you miss filming in the Caribbean?
"It's an amazing job but it's a long shoot. We spend six months filming in Guadeloupe. And I spend about three of them dying to be home with my friends and family, among English banter and roast dinners. But when I eventually get home I think – why was I wishing for this? It's grey and raining!"
What murder cases can we expect this year?
"There are some really interesting closed room murders. The opening episode deals with the ghost of Mamma Beth. Humphrey doesn't believe the killer is a ghost, but the childlike part of him wants it to be supernatural, because it would make a brilliant story. Yet he knows its nonsense! The second one is set in a surf school and I surfed in that episode!"
The series gets a great array of guest stars. Who is due to make an appearance this year?
"We've amazing guests this year – Nick Moran, Sally Phillips, Neil Morrissey, Stephen Vetts, Amy Nuttall, Trevor Laird, Matthew Lewis, and Gary Lewis. Brilliant actors. They think it's the best job - and it is. But being a guest is a completely different ballgame to working full-time, leading the show. They have a brilliant time, while I'm sweating in a suit for weeks! Sometimes it's like putting on a wet suit, getting into a sauna and doing Hamlet. I love that they come out and have a brilliant time. As do I – just with more sweating!"
And, finally, can we expect any romantic developments between Humphrey and his sidekick Camille this series?
"Humphrey's trying to keep the fact he's in love with Camille secret from her. Even though everyone else is aware of it, she isn't! He doesn't want to upset their friendship but they can't go on like this forever. Something's going to happen. I can't tell you what but we'll see him try and be brave! There are a lot of changes to come."
Death In Paradise, BBC1, Thursday 8th Jan, 9.00pm
Writer for TV Times, What's On TV, TV & Satellite Week and What To Watch
With twenty years of experience as an entertainment journalist, Elaine writes for What's on TV, TV Times, TV & Satellite Week and (opens in new tab)www.whattowatch.com (opens in new tab) covering a variety of programs from gardening and wildlife to documentaries and drama.
As well as active involvement in the WTW family's social media accounts, she has been known to get chatty on the red carpet and wander into the odd podcast.
After a day of previewing TV, writing about TV and interviewing TV stars, Elaine likes nothing than to relax… by watching TV.
Thank you for signing up to Whattowatch. You will receive a verification email shortly.
There was a problem. Please refresh the page and try again.