L'Assassino (1961) | Blu-ray/DVD release – Elio Petri's dazzling Kafkaesque thriller starring Marcello Mastroianni is a neglected cinematic gem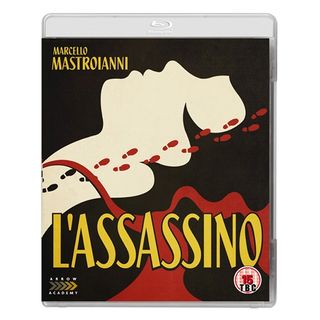 SYNOPSIS Released within months of Federico Fellini's La Dolce Vita and Michelangelo Antonioni's La Notte, director Elio Petri's dazzling 1961 debut L'Assassino (opens in new tab) (aka The Ladykiller of Rome) also stars Marcello Mastroianni (opens in new tab), this time as sleazy thirtysomething antiques dealer Alfredo Martelli, arrested on suspicion of murdering his older, far wealthier lover Adalgisa (Micheline Presle). But as the police investigation proceeds, it becomes less and less important whether Martelli actually committed the crime as his entire lifestyle is effectively put on trial…
THE LOWDOWN Best known for Investigation of a Citizen Above Suspicion and The Tenth Victim (read our review here (opens in new tab)), Elio Petri (opens in new tab) was one of the finest and yet most underrated Italian directors of the 1960s and 1970s. Highly acclaimed on its original UK release but unjustly neglected since, L'Assassino (opens in new tab) is a remarkably assured debut from one of the cinema's sharpest chroniclers of Italian social and political realities; fusing a thriller, a favourite genre of Petri's, with elements of a mystery plot with an Kafkaesque air, while also being a explicit critique of the rising upper-bourgeois society in Italy in the early 1960s.
Written for the screen by Tonino Guerra (who also did Antonioni's Blow-Up, Fellini's Amarcord and Tarkovsky's Nostalghia); lensed by Woody Allen's favourite cinematographer, Carlo Di Palma; edited by Fellini regular Ruggero Mastroianni; and with music by Piero Piccioni (whose compositions have recently been used in American Hustle and Silver Linings Playbook), L'Assassino is certainly ripe for rediscovery.
THE UK BLU-RAY/DVD RELEASE Following a high-definition restoration by Cineteca di Bologna, this is the first ever UK home entertainment release of L'Assassino and comes in a Blu-ray and DVD combo pack from Arrow Films' Arrow Academy label. Alongside the 2k digital presentation of the film, there's also a host of special features on offer, including the 52-minute documentary, Tonino Guerra - A Poet in the Movies, about the acclaimed screenwriter; an introduction by Italian cinema expert Pasquale Iannone; theatrical trailer; collector's booklet (featuring some informative new and vintage writings on the film); and newly commissioned artwork by Jay Shaw.
L'Assassino is available in the UK on the Arrow Academy label (opens in new tab) in a Blu-ray/DVD combo from Arrow Films
Thank you for signing up to Whattowatch. You will receive a verification email shortly.
There was a problem. Please refresh the page and try again.