Last Tango in Halifax stars: 'Our perfect Christmas!'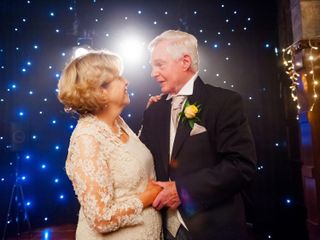 In an exclusive interview with TV Times magazine, Last Tango in Halifax (BBC1, Tuesday) stars Anne Reid, Derek Jacobi and Sarah Lancashire reveal what gets them into the festive spirit…
What can you tell us about the final episode of Last Tango?
Derek: "The final episode in this series of Last Tango, which is next week (Christmas Eve), is very Christmassy. There's trees and decorations, all that!"
Sarah: "It's beautiful. I don't think people will be disappointed at all, it's the culmination of relationships coming together and there are a few things that are going to be a big surprise."
What would you all like to find under the tree for yourselves this year?
Derek: "A rather nice showy piece of bling. I don't have much bling in my life, I've just got one tiny ring. So a lovely tie pin or some fantastic cufflinks, or a wonderful wristband, one of those things that are frightfully popular and 'in' now, would be lovely."
Anne: "This year, I've asked for a watering can because I'm always spilling water all over the floor. I'd also like first class Virgin airline tickets to New York... or anywhere! I've just flown to New York first class on air miles and it's so different being able to lie down so I've now started a piggybank for first class air travel!"
What is the best Christmas present you have received over the years?
Derek: "I can't remember a favourite Christmas present. But my best gift ever was a car, a bright red Ford Popular, for my 21st birthday. I asked my parents how they could possibly have afforded a car and they replied that they'd saved up 10 shillings a week from the day I was born for the pleasure of seeing my face. Can you imagine a better present than that?"
Anne: "Up until I was 10, every year my big present was a hardback book called The Film Review. It cost 12 shillings and six pence, which was a fortune in those days and had pictures of all the film stars in. That was my idea of total heaven so I suppose I must of wanted to be an actress back then."
Do you enjoy getting into the Christmas spirit?
Sarah: "Christmas is lovely but, I have to be honest, it starts on Christmas Eve in my house. I turn a blind eye to anything that starts earlier than that. We normally put the tree up around the 19 or 20 December."
Anne: "The best bit about Christmas is, starting from about the 17th of December, having lunch with friends. Last year, I did a Christmas tea where I invited people round for champagne, lots of interesting sandwiches and cake. I might do it again this year, I like it as I don't have to cook anything, but still get to entertain people."
Derek: "I like Christmas, but I don't enjoy it as much as I did when as a child. Back then I found it magical and I looked forward to it with eager anticipation. I suppose because children don't have to do all the work that it involves! But the sense of occasion and a lot of fun is there. I don't have a large family any more, most of them have gone, and I now usually spend it with my partner and friends."
What would your perfect Christmas be like?
Derek: "My perfect Christmas would be sunny and the sky would be blue. There might be some snow around, but it'd look wonderful outside. Inside would be cosy, warm and pretty. When we're at home, I decorate the house within an inch of its life! We'll be with friends, eating, drinking, laughing and gossiping!"
What will Christmas be like for you this year?
Sarah: "We always spend Christmas in exactly the same way – we all get together as a family. There are normally about 10 of us. We don't have any Christmas traditions, but we tend to eat dinner at 2pm as it really is the highlight of the day for us. We take it very leisurely and it's lovely to have everybody around the table. My mum does the turkey and I do the vegetables."
Anne: "I'm looking forward to spending Christmas with my family, I've got two beautiful blond little grandsons, who are just divine. We're going to be up north because my daughter-in-law's parents live there and are doing a big family Christmas, which will be lovely."
Will you be watching a lot of telly over the festive season?
Sarah: "Over Christmas, the only other thing I'll be watching is Downton Abbey. I'm a huge fan, so I've already made an appointment with that."
Get the latest updates, reviews and unmissable series to watch and more!
Thank you for signing up to Whattowatch. You will receive a verification email shortly.
There was a problem. Please refresh the page and try again.