Laurence Fox - 'I got hit in the face with a wrench in the Frankie Drake Mysteries!'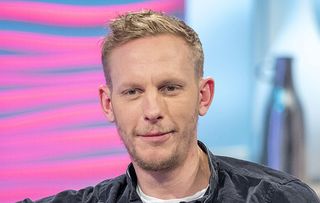 (Image credit: Ken McKay/ITV/REX/Shutterstock)
Laurence Fox on fun and high jinks in his new Canadian crime drama
While Emilia Fox is revelling in her 14th series of Silent Witness, her cousin, Lewis star Laurence Fox, is also returning to the world of detection in Alibi's Frankie Drake Mysteries.
Set in 1920s Toronto, the drama follows spirited sleuth Frankie (Lauren Lee Smith) and her partner Trudy Clarke (Chantel Riley) at Drake Private Detectives, the city's only all-female detective agency.
In this week's opening episode, Frankie investigates the kidnapping of an aviator's baby and encounters charming mechanic Greg Mills, played by Laurence, 39.
Here, Laurence Fox tells us more about the Frankie Drake Mysteries, which is on Alibi on Tuesday at 9.00pm…
What's the appeal of the show?
Laurence Fox: "It's a fast-paced crime caper and good old-fashioned fun. Greg is an enigmatic engineer and a plane mechanic, who doesn't like going up in the air. He's cynical about show-off aviators, so he's obviously had some sort of chequered past. I suspect something bad happened to him during the war."
How would you describe Greg's relationship with Frankie?
LF: "At the beginning, she is suspicious of him, but then towards the end there is a little bit of Frankie flirting going on! He saves the day, in many ways. Not as often as she does, but he does save the day and helps her. It's an all-female leading cast, but when Frankie needs a man to talk to, she goes and hits up Greg."
How did you find filming?
LF: "It was great; I got to sit in a real airfield all day drinking bubbles, having a giggle, watching aeroplanes flying around. It was like my own air show! There were some amazing planes out there, as well as some old boys sat around smoking cigarettes, with bomber jackets on, who looked like they probably shot down plenty of planes in their day!"
Did you get any action scenes?
LF: "Yes, I got hit in the face with a wrench. It was foam, but it hurt! The stuntman set it up carefully but I still got socked in the face. I bravely soldiered on. A car also set itself on fire. Canadians are chilled and they just said, 'Guys, shall we get out?' It was only a tiny fire..."
Did you like your 1920s costume?
LF: "I liked my character's style, but I was jealous of another actor in a beautiful white suit. I loved my hat though and wore it as much as possible."
Was it fun to be guest-starring in a female-led show?
LF: "It's much better, bring it on! It's disappointing reading scripts and thinking, 'Where are the female parts?' But this has great female leads; it was wonderful."
Could Greg return for series two?
LF: "The last thing he says to Frankie is something like, 'Maybe we could have dinner sometime?' I'd be up for another trip to Toronto for great food and fishing."
Pic credit: Ken McKay/ITV/REX/Shutterstock
Get the latest updates, reviews and unmissable series to watch and more!
Thank you for signing up to Whattowatch. You will receive a verification email shortly.
There was a problem. Please refresh the page and try again.