Learn the secrets of Mary Berry's Foolproof Cooking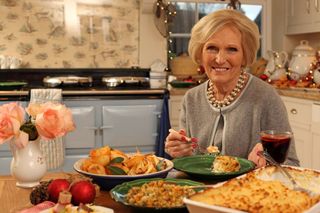 (Image credit: BBC)
The Bake Off star reveals her favourite easy recipes in her new series Foolproof Cooking and why she doesn't film in her own home any more...
What's the inspiration for this series?
"The whole idea of the series is that I have chosen recipes that aren't too difficult or they are classics that I have simplified. I go through every stage and explain every single detail so the viewers will have success. It's important not to rush; I wanted plenty of time to explain each dish."
Do you receive lots of letters asking for your advice?
"We have letters every week and reply to them all, although I can't go into details when they ask things like, 'what should I have for my daughter's wedding day?'! But, on the whole, we do reply to every request. A lot of them come from children and anything to encourage them to cook at home."
What's the theme for the first episode?
"It's called Special, so we do Beef Wellington and lobster. I went to Rules restaurant in London with some old friends as their Beef Wellington is delicious, but much more complicated than mine. I say you can buy the pastry. I do lobster once a year, if that, but people want to know how to do it."
Didn't you catch your lobster yourself?
"I did, off the Isle of Wight, and it was brilliant! A new experience and I loved it. Luckily, the sea was calm and it's lovely to be with an expert who's been out at sea, man and boy, a real privilege. After we caught the lobster he served it to me on chips and it was delicious. I certainly hadn't had that before!"
Is it nice to keep doing new things at this stage of your career?
"Oh yes, I love doing new things and also, seeing how other people enjoy food."
You film in a lovely kitchen, is it yours?
"I used to do it in my kitchen, but now we take over a kitchen which is bigger than mine. With all the pots and pans, pictures and fabrics, we make it look the same, but it means the doorbell isn't ringing all the time. At home, the postman comes! It's too difficult."
What's in the following episodes?
"The second episode is Comfort Days, when you want things that are warming. I do a lovely fish pie with cheese on top. There's Summer Days where I do things like a whole sea bass with lime and dill butter, cray fish, and lamb burgers which are simply great, the family seem to love them. You serve it with a mint mayo. For Family Days, it's things that people really look forward to, like a simple herb flatbread. You can split them like a pitta bread and put all sorts of things in them like a sandwich."
And there's a Busy Days episode, that must be something you can relate to?
"Yes, so I make a lovely soup that you can do in 10 minutes with cans of tomatoes, it's lovely. Finally there are Party Days and I'm all for a party! We do salmon and herb coulibiac, and a lovely big bold cake in layers with strawberries, raspberries and blueberries."
You must have so many recipes, are these some of your favourites?
"Well, they are all my favourite, I do have a lot, but we work on them. If people think the recipes are good it's because we work at it, we try them all out. We have quite a team here and nothing goes into the book or the programme that we don't all think is special."
And you've also recently filmed a special celebrity edition of Bake Off for Sport Relief?
"That'll be at the end of the month and it will be great this year. We have a great line-up and they all take it very seriously but gosh, we have fun! It's a huge honour to do those shows and there are many surprises! Some of them try so hard and then at the last minute, it all goes wrong. They anticipate huge success and perhaps it doesn't work out, but wait and see."
Can you tell which personalities will do well?
"From the very start when you're chatting to them, you know how well they're handling the bakes and whether they are used to it. But they're all very keen and they're all giving their time for charity."
Mary Berry's Foolproof Cooking starts Monday 25th January, 8.30pm on BBC2.


The accompanying book, Mary Berry – Foolproof Cooking, is published by BBC Books on Thursday, January 28, £25 Hardback
Get the latest updates, reviews and unmissable series to watch and more!
Thank you for signing up to Whattowatch. You will receive a verification email shortly.
There was a problem. Please refresh the page and try again.