Lee Ingleby: 'My girlfriend might look at me differently after Line of Duty!'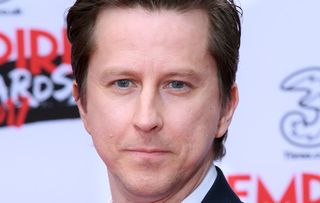 (Image credit: David Fisher/REX/Shutterstock)
Lee Ingleby reveals all about the shocking twists and turns of Line of Duty
At the start of the latest series of BBC1 crime drama Line of Duty, it appeared that Nick Huntley was simply the supportive husband of dodgy DCI Roz Huntley (Thandie Newton). But we've since realised that there was far more to the solictor (Lee Ingleby) than met the eye.
TV Times took Lee, 41, in for questioning to learn more…
Did you always know that Nick was more complex that he first seemed? "Yes, the writer, Jed Mercurio, sat me down for a chat at the start and told me and I was really excited. Viewers have been contacting me on Twitter saying, 'How come you are only in one scene?' and offering up theories, but I just keep quiet so that I didn't land in trouble!"
Roz and Nick have an odd marriage, are there more secrets to come? "There are more lies that have been lying hidden between the two of them. There are so many twists and turns and it really takes you by surprise. They have a strange relationship, but Roz took a back-step in her career so that he could go forward in his, but it didn't work for him so she has always felt resentment and is quite controlling."
We've seen him on edge since the attack on Steve, is his behaviour going to become more erratic? "He is completely unsettled. He doesn't feel things are back to normal now that he has been released by AC-12 because he doesn't know what is going on with his family and he is questioning Roz's motives and he is deeply suspicious. Jealousy drives him."
Was it exciting being interviewed by AC-12? "Yes! I was a big fan of the previous three series so I was thrilled to be part of this one in any capacity, but you always want to be investigated by AC-12! My interrogation was probably only a third of the length of some people's, but it was still a challenge. Those are the scenes you really relish, but they are no mean feat. Thandie had a half-hour interview scene and when I helped her go through it we just got brain dead retaining the information."
How did you feel when you found out that Thandie was playing your wife? "Nervous. I've seen her in so many films and I just thought, 'Really?! Has she married me?! She was in Mission Impossible 2 with Tom Cruise!' But we had fun straight away; she is great to work with."
Do you watch the series as it goes out yourself? "Yes I am watching it with my girlfriend at the same time as everyone else, which is exciting, because when you are filming you concentrate on your own stuff, but now I can see what is going in AC-12 and with Roz at work. I only told my girlfriend bits and bobs, so she might start looking at me in a different way after watching Nick!"
You've just filmed the last ever George Gently and ITV thriller Innocent. What are you up to next? "I'm currently in the Lake District filming the second series of The A Word. I loved doing the first series because it felt very special and it is just a drama about a family. I'm lucky to do something like Line of Duty with its twists and suspense, and then The A Word, which is about parents trying to cope with autism. I feel very proud. I've had a good year of quality work."
Line of Duty continues on Sunday on BBC1 at 9pm
Get the What to Watch Newsletter
The latest updates, reviews and unmissable series to watch and more!
Caren has been a journalist specializing in TV for almost two decades and is a Senior Features Writer for TV Times, TV & Satellite Week and What's On TV magazines and she also writes for What to Watch.
Over the years, she has spent many a day in a muddy field or an on-set catering bus chatting to numerous stars on location including the likes of Olivia Colman, David Tennant, Suranne Jones, Jamie Dornan, Dame Judi Dench and Sir Derek Jacobi as well as Hollywood actors such as Glenn Close and Kiefer Sutherland.
Caren will happily sit down and watch any kind of telly (well, maybe not sci-fi!), but she particularly loves period dramas like Call the Midwife, Downton Abbey and The Crown and she's also a big fan of juicy crime thrillers from Line of Duty to Poirot.
In her spare time, Caren enjoys going to the cinema and theatre or curling up with a good book.