Lee Mack returns with a full house in Not Going Out: 'I wanted to write about my real life'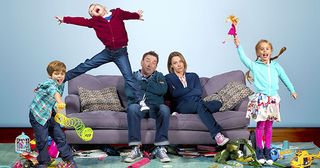 (Image credit: BBC/Avalon/Perou)
Lee Mack explains why and how they've advanced hit sitcom Not Going Out from having a baby in the last show to three children now
Not Going Out is back for an eighth series, so we caught up Lee Mack to talk about getting a Spice Girl do to a cameo and how he and Lucy finished up with three children!
A lot has changed since we last saw Lee and Lucy in the 2015 Not Going Out Christmas special; they now live in the suburbs and have three young kids! "I wanted to write about my real life because I'm married with three children. So we thought about slowly progressing the show – we had a baby in the last Christmas special – and build it up slowly over a few years … But to be honest I didn't know if we were going to be on TV for enough time to do that, so we decided to hit the ground running. Now I'm actually playing my own age roughly, rather than younger than I am, which is nice. Also I was running out of gags about a bloke who fancies his landlady!"
Were you worried about how the viewers might react to such a quick change? "Given this is a sitcom that's been on 10 years and my character doesn't even have a surname, I thought we could get away with it! We don't really worry about those kinds of details. I changed Lucy's surname to Adams in series four, just so I could do the gag 'Sweet Fanny Adams'."
Will we be seeing some episodes based upon your own experiences of family life? "Some of the stories are based on real life. The rule me and the other writers had was that it had to be based on some sort of reality. These things had to have happened to someone we know in real life. As long as there's some nugget of truth in them."
What kind of things can we expect to see in the series? "The first episode is about Lucy forgetting their wedding anniversary, which my wife has certainly never done – make sure you get that in! Then there's one where we're trapped in a car waiting to get on the ferry, there's lots of truth in that."
Does your wife watch the show? "She's a busy full-time mum who pays no attention to my entertainment life. She might be a bit horrified if she does start watching. I'm a bit concerned that she'll see some of it and say, 'You can't talk about that here. That's what you talk about in bed!' I could be in real trouble!"
We hear Emma Bunton will also be making an appearance later in the series? "Yes we have an episode about hot tub fantasy dates, which guest stars Emma Bunton. I should emphasise that Emma Bunton is my character's fantasy date and not mine. I'm happily married, make sure you write that bit down."
How did she come to be involved in the show? "We worked together once and she said she liked the show, but all the other Spice Girls hate it! I had to do a lot of writing over the bank holiday weekend and I knew a lot of the offices would be closed. I got hold of her agent's email and said: 'I know this isn't how you do things, but would Emma like to be in the show if I write a part for her?'
"I got an email an hour later saying she wanted to do it. That was great because I didn't have time to go through the normal channels!"
Did you enjoy working with her? "She's really good fun, really grounded and a good actress. Sometimes we forget how big The Spice Girls were. They were massive! But she was really nice. She's funny as well, she gets comedy."
Have you ever thought of getting some of your Would I Lie To You guest stars on the show? "Rob Brydon does make a sneaky appearance. His voice is heard when we're trapped in a car waiting to get on the ferry!"
The series has also been recommissioned for two more series, which will make it the longest running comedy currently on British TV… "Yeah it's amazing. We've been on for 10 years and I didn't think we'd be sitting here when we started out. I thought it would be one or two series, so it's brilliant to have another two coming after this. I started the show in my 30s and I'll be doing it into my 50s, probably time to pack it in right? I'll do it as long as I'm asked because I love doing it."
Did you ever think about ending the show? "The traditional way is to do a couple of series and then finish and call yourself a classic, but I really like to drag it out until everyone is sick of it. I'll do it to death! I'll keep going until there's one bloke and a dog watching. But in all seriousness, I'll keep going as long as I'm asked to because I love making it, Not Going Out is what I'm most proud of."
Not Going Out is famous for it's joke rate, does it get easier writing them after so many series? "It's good that we've mixed things up. The storylines aren't so out there, but now they have to be based on some reality. They used to be big! So it's different in that way, but the jokes are still there. Everyone talks about the gags, but the most difficult thing is coming up with the stories. You have to learn to do that for sitcoms, I didn't know anything at the start, I had to learn the knack and I still feel the first two series weren't right, but I'm proud the stories are now coherent."
Do your kids watch the show? "They've seen it, but they're more interested in The great British Bake Off and Crystal Maze! My show is right down the list!"
The eighth series of Not Going Out premieres on BBC1 on Friday, January 13
Feature writer for TV Times, What's On TV, TV & Satellite Week and whattowatch.com
Sean has been writing about all things telly for over 10 years and in that time he's been lucky enough to interview stars like Ian McKellen, Tom Hardy and Kate Winslet. His favourite shows are The Great British Bake-Off, People Just Do Nothing and Succession and in his spare time he enjoys drinking tea, doing crosswords and watching football.
Thank you for signing up to Whattowatch. You will receive a verification email shortly.
There was a problem. Please refresh the page and try again.