Lenny Henry on Danny and Human Zoo: 'It was time I wrote about my chaotic Jamaican family!'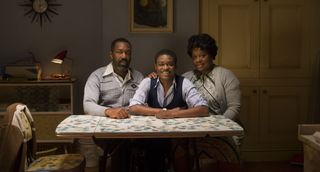 (Image credit: BBC/Red Productions/Adrian Rogers)
From discovering his dad wasn't his biological father and experiencing the everyday racism of 1970s Britain, to growing up in a chaotic Jamaican family, filled with laughter, love and secrets, Lenny Henry (opens in new tab) reveals the true fiction behind his rise to fame in BBC1's one-off semi-autobiographical drama, Danny and the Human Zoo (BBC1, Monday, August 31)…
What can you tell us about this semi-fictional version of your life growing up in 1970s Dudley?
"It's a 90-minute film about Danny Fearon, his mates supporting his talents, and all the trials and tribulations of growing up in a chaotic Jamaican family. A factual version would have been too long so when I was developing this with author Neil Gaiman he recommended using elements of my life, but making most of it up!"
What did this approach bring to the writing process?
"Strangely with fiction you can get closer to a truthful thing than a pedantic 'this happened, and then this happened next'. So we changed all the names, some situations and invented lots of stuff. I think it's a better story and it freed me up to write fluidly."
Was it strange playing the character of your Jamaican father?
"Samson is very similar to my dad in that he'd often come home from work and barely speak except to say 'stop d noise, I want to watch the cricket!' But he wouldn't have a conversation with you. It would have been great if he'd given me advice because I certainly needed it, so this is like me talking to myself when I was 16 and auditioning for New Faces. Cecilia Noble (opens in new tab) who plays my mother is brilliant. She was always the funny one in our house whereas I was going for this very English old, school club land style humor!"
Danny discovers his mother had an affair and Samson wasn't his biological father…
"That's based on truth actually. I wanted something truthful at the core of this. The guy I grew up with and raised me, that's my dad. I'm glad I've written about it, it was about time."
What made newcomer Kascion Franklin (opens in new tab) the right choice to play Danny AKA young Lenny, as the character starts his comedy career?
"It's difficult to explain to a 21st century young person that there were only three channels back in the day and that I was obsessed with everything on telly so I could make my mates laugh. When Kascion came in I could tell he'd really done his homework. He'd watched hours of YouTube footage and really smashed some of the voice impressions."
Did you give him a master class in the impressions that made you a household name?
"There were several people he didn't understand or didn't get, but I sat with him and he started to get it, and was fantastic. It was important he could do the impressions I used to do, but it was more important he could act. Kascion is so talented, he'll break your heart and make you want to cry."
Did you experience similar racism to Danny?
"There were a lot of clubs I went to where people said racist things. You would be sitting in the loo hear them talk about you. Mark Benton (opens in new tab) is brilliant as the club comic who was like a lot of comics who introduced me, but really didn't care that I was basically a child, and would say horrible things before I went on. What's great is Danny turns it around, whereas sometimes I wasn't able to. It's good to represent what it was really like."
What are the highlights of the drama?
"What's great about writing about a parallel universe is you can have people do things they didn't do in real life. There's a bizarre moment when Danny gets sacked by The Black & White Minstrel Show's promoter (Richard Wilson) for coming on stage naked and drunk. That was a fantasy, clearly, and in real life I'd have loved to get out of that contract earlier.
"There's a lot of wish fulfillment, like when Danny's dad Samson ridicules and rips up his first contract (in front of Danny's dodgy first manager, Jonesy, played by Arthur Darvill (opens in new tab)) for not being legal and written in felt tip pen! I also wish there was a love interest like Cherry around back in the day to say 'Boy you is an idiot!'"
Watch the trailer here. (opens in new tab)
http://www.youtube.com/watch?v=TS0Tmb73wy8
With twenty years of experience as an entertainment journalist, Elaine writes for What's on TV, TV Times, TV & Satellite Week and (opens in new tab)www.whattowatch.com (opens in new tab) covering a variety of programs from gardening and wildlife to documentaries and drama.
As well as active involvement in the WTW family's social media accounts, she has been known to get chatty on the red carpet and wander into the odd podcast.
After a day of previewing TV, writing about TV and interviewing TV stars, Elaine likes nothing than to relax… by watching TV.
Get the latest updates, reviews and unmissable series to watch and more!
Thank you for signing up to Whattowatch. You will receive a verification email shortly.
There was a problem. Please refresh the page and try again.