'Lesley Joseph does all her own stunts!" says Birds of a Feather star Pauline Quirke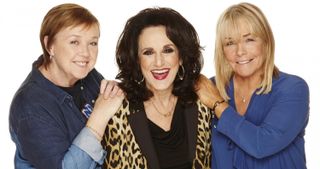 TV Times (opens in new tab) has a good old chinwag with the ladies of Birds of a Feather about their upcoming Christmas Special...
So ladies, how exciting, you're off to the Canary Islands...
Pauline Quirke (Sharon): "That's not what the script says!"
Lesley Joseph (Dorien): "If only! We certainly set out with that intention but things go awry, as always, along the way."
Pauline: "Yes, the intention was to go to Tenerife but we ended up in Bournemouth…"
Linda Robson (Tracey): "... which was nice and sunny. We spent a day and a night there."
Pauline: "It's a fantastic episode and I can see why ITV have made it longer than a usual edition of Birds – we've been given two more minutes! And Ms Joseph, here, does all her own stunts."
Lesley: "I have a few; I really like it when there's some physical comedy involved."
The festive special kicks off the new series. What else is in store?
Pauline: "We've got a new Garth [Tracey's eldest son]. As McBusted has gone huge, Matt Willis was unable to return so a lovely actor called Samuel James has taken over the role. And my not-so-little boy Charlie is back again as Tracey's youngest Travis. We're just having a ball! "
Of all the Birds Christmas specials, which are your favourites?
Pauline: "I thought the Berlin episode, 1990's Falling in Love Again, was one of the best stories we've had."
Lesley: "We filmed it just after the Berlin Wall came down, and you could really then see the difference between East and West Berlin. It was a very historic time to be there."
Linda: "We've got bits of the Wall somewhere at home. And going to LA for 1993's It Happened in Hollywood was great fun. We filmed on Venice Beach and American film star George Hamilton guest starred in it. He was so lovely and, on the last night, he took us and all the crew out for a meal, which was very generous."
Do you buy each other Christmas presents?
Lesley: "No, we instead buy each other end-of-series presents".
Linda: "And they're normally bird-related. We've got everything to do with birds that you could imagine!"
Finally, what presents would you buy your characters for Christmas?
Linda: "For Tracey, I'd get something for the home or a picture of her boys."
Pauline: "Anything comfortable for Sharon, so a onesie or some slippers."
Lesley: "I'd buy Dorien some leopard-print pyjamas or a voucher for Ann Summers!"
Birds of a Feather returns to ITV on Boxing Day at 9pm
Thank you for signing up to Whattowatch. You will receive a verification email shortly.
There was a problem. Please refresh the page and try again.