Lisa McGrillis: 'Mum gives you your money's worth from your TV licence!'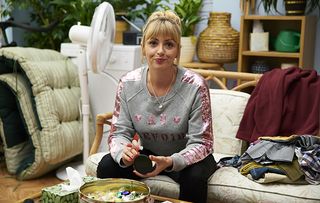 (Image credit: BBC/Big Talk Productions)
Mum's Lisa McGrillis spills the beans on this next week's finale and why the show has become one of TV's best-loved comedies
Here, Lisa McGrillis, who plays delightfully dopey Kelly, the girlfriend of Cathy's equally dozy son Jason (Sam Swainsbury), reveals to TV Times why everyone has taken BBC2 comedy Mum (which continues tonight) to their hearts and what lies ahead…
TV Times What can you tell us about the finale next week?
Lisa McGrillis: "It is Bonfire Night and Jason has suspicions about Cathy and Michael and is unhappy about it. There's a cliffhanger but I hope the audience find it a satisfying end because it is frustrating watching two people who're blatantly in love with each other but are avoiding saying it. It's such a gorgeous story about two people at a later stage of life finding love. People tell me they want to shake them because they just want them to kiss!"
TVT The second run has really captured everyone's imagination, why is that?
LM: "People love it because the characters have really bedded in and feel so relatable. All the characters have heart and redeeming qualities and it makes you laugh and cry within the space of 10 seconds and that's satisfying. You get your money's worth out of your TV licence when you watch Mum!"
TVT: What's in store for the third series, which was commissioned before the second went out?
LM: "We film later this year and we're chomping at the bit to find out but the lovely thing about Mum is that nothing really happens! Jason and Kelly are moving out but they'll still be at Cathy's all the time although Jason being upset about Michael will have an impact… Our writer Stefan Golaszewski sees it ending with the third series though. I could make it forever but it's lovely leaving people wanting more."
TVT What do you enjoy about working with Lesley Manville, who plays Cathy?
LM: "She's the best actor in this country at the moment and the kindest woman. I'd just had a baby [Joshy with husband, Jamestown star Stuart Martin] when we filmed this series and I was struggling being away from him. Lesley moved my mum and dad and Joshy into her house so we could be near the studio and I could see him before work and put him to bed. She's an inspiration."
TVT How has Mum changed things for you career-wise?
LM: "I feel lucky and grateful to be in it. Before Mum, I struggled to get into a room to get an audition but Mum has got me through doors I've never been through before and has been a platform that I've wanted for a long time."
TVT Before Mum, you were best known as DS Rachel Coles in Inspector George Gently, what reaction did you get to the finale of that?
LM: "I loved that last episode and Martin Shaw was at his best. The response was phenomenal because people were so shocked that Gently was killed off but he'd have been unhappy as a retired man. That was such a fantastic show to be part of."
TVT What's next for you?
LM: "I'm filming the third series of [C4 drama] No Offence and that's brilliant because my character is very different from Kelly. She's a very serious grass-roots politician. I love hiding behind such different characters. Kelly's a part of me now though – is that a good thing?!"
Mum concludes on Tuesday 27 March on BBC2 at 10pm
Get the latest updates, reviews and unmissable series to watch and more!
Thank you for signing up to Whattowatch. You will receive a verification email shortly.
There was a problem. Please refresh the page and try again.