Lisa Riley: 'I got so angry while we were filming Three Girls!'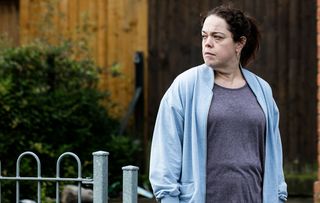 (Image credit: BBC/Sophie Mutevelian)
Former Emmerdale star Lisa Riley on making BBC1's new drama Three Girls about a child grooming ring in Rochdale
New three-part BBC1 drama Three Girls won't be easy or entertaining to watch, but its stars, including Lisa Riley, Jill Halfpenny, Lesley Sharp and Maxine Peake, feel it's a hugely important piece of television.
Here, former Emmerdale star Lisa Riley, 40, tells TV Times why the series, about a child grooming ring in Rochdale, is one everyone should watch.
Lisa, what made you take this role? "It's a story that needs to be told. The drama made me more aware of what was going on and I got so angry about it all while we were filming Three Girls, it was always really hard to leave the story behind at the end of the day, I had to consciously do something else to switch off."
Identities have been changed for the drama, but your character is based on a real woman. Did you meet the lady you were playing? "Yes I did. I wanted to make them feel safe and go the extra mile. This is not just a TV drama, these people survived abuse and are still living so I spent a lot of time with them and they were so open with me. Of course it was harrowing to film at times, but I'm incredibly proud to know we have the girls' approval."
You grew up in nearby Bury, do you remember the case from the time? "Yes, it happened on our doorstep, just a few miles from where I lived at the time, it was the talk of the town. Families were telling girls not to get in a cab on their own, but of course not everyone was at risk, these men were preying on the vulnerable kids – those who didn't have someone making their tea for them or reading them a story."
Do you hope the drama increases awareness of the case? "Yes I do. Of course a lot more girls were affected, but we only have three hours to tell the story. It's going to open people's eyes about what's going on – it could be happening next door to you. I think we need more awareness in schools and it would be amazing if they could show kids a drama like this."
https://youtu.be/VQ2ryGqF2es
This is a great role to showcase your talents as an actress too... "I don't take everything I get offered, so it was a conscious decision for me to do this. I just knew this was fantastic, I had a connection with the script, like when I appeared in Scott & Bailey. I also wanted to make sure I didn't glamorise the role – if you're going to play the girl from Salford, you've got to look like the girl from Salford. You should never have any vanity as an actress. They had to matte my hair every morning with a spray for bald men... there were no Chanel handbags!"
Three Girls screens over three consecutive nights on BBC1 on Tuesday, May 16
Get the latest updates, reviews and unmissable series to watch and more!
Thank you for signing up to Whattowatch. You will receive a verification email shortly.
There was a problem. Please refresh the page and try again.