Louise Brealey: 'We treated it as the end of Sherlock, but if something happens it'd be a wonderful surprise!'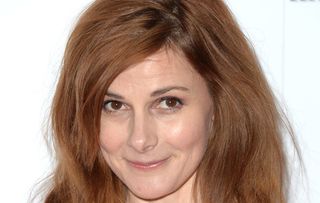 (Image credit: Doug Peters/EMPICS Entertainment)
Sherlock's Louise Brealey gives the exclusive lowdown on why everyone's favourite crime drama might not return to our screens, but she'd be delighted if it did!
The finale of Sherlock in January was ominously titled The Final Problem and ended with a montage of the adventures of our heroes Sherlock and John, (Benedict Cumberbatch and Martin Freeman) as John's late wife Mary (Amanda Abbington) paid tribute to them.
So could the hit BBC1 crime drama return or was that the last we'll see of the Baker Street sleuths?
"It was an ending of sorts and there are no plans for it to happen again at the moment, but none of us know," Louise Brealey, who plays Sherlock's devoted friend Molly Hooper told TV Times.
"We don't have a plan up our sleeve, but it's nice to treat it as the end and if something happens down the line that'd be a wonderful surprise. We'd all leap at it; I'd do more in a heartbeat."
Viewers were on the edge of their seats when Sherlock's twisted sister Eurus (Sian Brooke) forced him to make poor pathologist Molly declare her love for him to stop her flat from blowing up.
"I was delighted by the reaction," said Louise. "I was in Cambodia on holiday so I didn't see it, but I went on Twitter and I was overwhelmed to have wave after wave of people telling me that they were incredibly moved. After playing Molly for seven years it was great to do her justice and give her a good send-off if it is the end..."
Louise will next appear in a very different role in BBC3 thriller Clique (Sunday, March 5). The actress plays formidable Jude McDermid, a university lecturer and businesswomen, who tries to recruit her talented young students into a mysterious organisation.
"Jude's unlike anyone I've ever played because she's an alpha female and she doesn't take any rubbish," Louise told us. "Because I'm small and look sweet I play a lot of vulnerable, broken fragile women, so it's wonderful to play a bit of a cow!"
Clique begins on BBC3 on Sunday, March 5th
Get the latest updates, reviews and unmissable series to watch and more!
Thank you for signing up to Whattowatch. You will receive a verification email shortly.
There was a problem. Please refresh the page and try again.