Line of Duty star Martin Compston: 'We're facing our most dangerous adversaries!'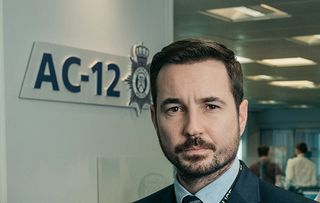 (Image credit: BBC/World Productions)
Martin Compston on the twists and turns in store as BBC1 cop drama Line of Duty returns for a fifth series
Line of Duty is back with a bang! AC-12 detectives Steve Arnott (Martin Compston), Kate Fleming (Vicky McClure) and Ted Hastings (Adrian Dunbar) are tackling their toughest case to date in the fifth run of the BBC1 crime drama.
This time around, the police anti-corruption unit try to uncover the dodgy police officer, known only as 'H'. During previous series, the bent cop has masterminded numerous heinous crimes with a balaclava-clad gang of thugs.
The series, penned by Bodyguard writer Jed Mercurio, begins in action-packed style as the balaclava gang hijack a police transportation unit and kill three police officers. AC-12's enquiries lead them to the organised crime ring, run by mysterious John Corbett (Stephen Graham) and Lisa McQueen (Rochenda Sandall).
Here, Martin Compston reveals to TV & Satellite Week what's coming up in Line of Duty…
TV & Satellite Week: Are there lots of shocks in store in the new run of Line of Duty?
Martin Compston: "Yes but Jed would never do a twist for twist's sake. It's not just about throwing in a bomb to shock everybody. But you always think you are prepared for everything and then, when you get the script, you think, 'He has done me again!'"
TVSW: How does this series of Line of Duty compare?
MC: "We are onto a winner. This could be our strongest year. The guest stars are phenomenal, it's such a strong storyline and a culmination of events from series one. It's really exciting."
TVSW: Tell us about the case
MC: "Usually AC-12's job description is going after bent coppers. But in the quest to get 'H' we hit a brick wall. So we're changing tack and going directly at the criminal gang the cops are in league with. We're seeing behind the balaclava and Lisa McQueen and John Corbett are our most dangerous adversaries yet."
In the last series of Line of Duty, the team's colleague Maneet Bindra (Maya Sondhi) secretly passed information to late corrupt officer Derek Hilton (Paul Higgins). Will that be revisited? Could other member of AC-12 also be corrupt?
MC: "Yes, but there are grey areas because Maneet didn't want to do it, she was being backed into a corner. You can see all the skeletons we have in our closet too. With every cop we've investigated, they've had a weakness that the gang has exploited to their advantage so it's a question of whether that could happen to any of us…"
TVSW: Finally, is Steve recovered now from being thrown down a stairwell by a balaclava man last series?
MC: "Yes Steve is back on his feet but with Jed's writing, nothing's ever as it seems…
Line of Duty returns on Sunday 31 March on BBC1 at 9pm
Get the latest updates, reviews and unmissable series to watch and more!
Thank you for signing up to Whattowatch. You will receive a verification email shortly.
There was a problem. Please refresh the page and try again.