Martin Compston reveals Line of Duty finale will deliver major 'pay-offs'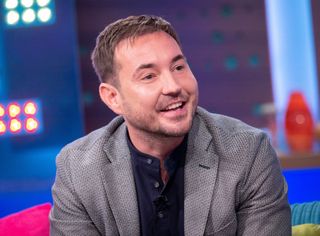 (Image credit: Steve Meddle/REX/Shutterstock)
The actor says fans won't be left disappointed by tonight's 90 minute spectacular.
Martin Compston, who plays DS Steve Arnott in the hit BBC1 series, appeared on Sunday Brunch this morning – and hosts Tim Lovejoy and Simon Rimmer were determined to fish for spoilers ahead of tonight's series finale.
"Who's H?" asked Tim. "Come on, come on!"
But Martin was equally determined not to give anything away. "We've already got a next series and if I want to survive I'm not going to say anything," he joked.
But he teased that nothing was certain, saying: "The show itself has already been commissioned for another series, but who knows who'll make it there."
"I think what Jed's really good at is his writing so there will be a few pay-offs," he added.
But will tonight's epic finale finally clear everything up – or will fans be left disappointed?
"Well, I hope not," said Martin. "There will be a few big pay-offs and some things resolved, and we've got a 90 minute ep as well, which is great. It's exciting – I think it's alright."
Martin also admitted that while he is "chuffed" with the attention the show has received, he's looking forward to the series ending. "One of the reasons I can't wait for it to be over is I could put out a tweet saying, 'Just had a sausage roll on Sunday Brunch,' and I can guarantee someone will tweet me back saying, 'No spoilers!'" he explained.
Many viewers were floored – not so much by Martin's comments, but by how he said them. While his character in Line of Duty is English, Martin is actually Scottish in real life – and hearing his real accent left several fans in shock, with one declaring that they had nearly fallen out of bed.
"I'm not sure I like you speaking like that," said Tim. "People get so surprised when you speak."
"Well, not Scottish people," Martin chuckled.
"Steve Arnott," one person wrote on Twitter. "Just no, stop putting on that accent."
"STEVE ARNOTT IS SCOTTISH?????" another demanded. "What else is he hiding?? Is his middle name H??? Mind. Blown."
Well, we shouldn't have to wait too much longer to find out – who else is counting down the hours?
Line of Duty concludes on Sunday 5 May at 9pm on BBC1.
Get the latest updates, reviews and unmissable series to watch and more!
Thank you for signing up to Whattowatch. You will receive a verification email shortly.
There was a problem. Please refresh the page and try again.