Meet the people starting life anew on BBC2's Second Chance Summer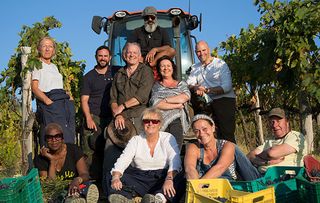 (Image credit: BBC/Two Four/Alex Bryant)
BBC2's compelling try-before-you-buy series Second Chance Summer, about Brits being given a chance to restart their lives, is back
We loved the first series of BBC2's Second Chance Summer, which teamed up a group of disparate forty and fifty-somethings and gave them the chance to start their lives afresh in Tuscany, so we've been hanging out for series two.
But will this intake all get on as they share the farm-house for an entire summer and produce their own food, do their own building, cleaning and generally pitching in in the idyllic environment? Will there be any romance? And will anyone stay on beyond the summer?
Meet the new cast of Second Chance Summer...
Altaf, 44
Indian-born and Glasgow raised with a background in construction, building and interior design, and previously ran his own property development business. He is also a master at Reiki, the Japanese relaxation technique. Altaf says: "Living with 9 other people is always going to create some challenges but I think we will all get on, I hope we will all get on"
Andy, 54
Divorced father of two, spent 36 years as a murder, torture, kidnapping and anti-slavery detective at Scotland Yard, before deciding to become a freelance anti-trafficking consultant five years ago, but now work has taken its toll on him and after suffering a minor heart attack last summer he would like to trade it in for a rural job. Andy says: "I've seen things no one would want to see. The stress of the job caused my heart attack, and now I need to be less action man and more gardener. My Tuscan dream is to not have to listen to horror stories"
Chi, 47
Single, creative designer from Brixton, London who runs her own agency and takes her sewing machine everywhere so that she can make clothes, jewellery, soft furnishings, bags and accessories. Chi says: "I'm well aware that people might look at me and be like, 'how is SHE going to survive in the country?' but I think I'll be all right, everything is about adapting and I'm good at that."
Gavin, 55
Single divorcee with no children, a serial entrepreneur who has worked as a used car salesman, managed pubs and a nightclub, run a B'n'B, and even trained as a chef. He lives with his dog Ted, a German spitz who already has a pet passport, and he hopes to be sharing some of his Tuscan adventure with Ted alongside the other group members. Gavin says: "I'm particularly interested in wine, grapes, olives, olive oil, that's where my main interest is lying"
Gill, 50
Widowed, single mum of two who is a keen chef and qualified massage therapist. Enjoys making her own soap, bread, chutneys and jams, upcycling furniture and recently began cheffing at a local pub as she adores cooking and trying new recipes. Determined to make her and her late partner's lifelong ambition of opening a B'n'B abroad a reality. Gill says: "Coming to Italy after everything that I've been through has given me a real sense of purpose, it's exactly what I need. There's got to be something more"
Karen, 54
Single mum and former army wife with a zeal for life and enthusiasm to try new things. Has previously worked in ski lodges as a chalet girl and in Hong Kong as a cook, also enjoys the opportunity to share her passion for food with other people and is an excellent hostess, hoping to set up a stylish B'n'B in the countryside. Karen says: "I always thought I'd like to run a B 'n' B, I hope the reality will live up to the dream. I think it's going to be amazing "
Lesley, 58
Single, busy mother with grown-up children and grandchildren. Since her marriage broke down, she has dreamed of moving abroad, somewhere where she can have enough land to live self-sufficiently, grow all her own fresh produce and sell the surplus at a local market. Lesley says: "I'm looking to rediscover Lesley, the one that had the hopes and dreams and aspirations before life has slapped me in the face a few times and made me disillusioned"
Rob, 38
Single and the youngest member of the group. Manages a boutique hunting and fishing hotel in the Scottish Highlands, but feels unfulfilled and ready for a new challenge. Has previously worked as a sommelier and also has a good knowledge of how to grow his own fruit and vegetables. Rob says: "What I'd love to be able to get out of moving to Italy is to say, I did this, I took a massive chance and I made it happen"
Robert, 46
Single, no children. Has been a successful tech guru and investor but changed from being a corporate workaholic to a new healthier lifestyle and is now dedicated to healthy eating and exercise. Wants to set up a health and wellness retreat abroad, where guests grow and eat their own food, practise meditation and receive life coaching. Robert says: "I want to learn about getting food from the field to the fork."
Tracy, 50
Devoted single mum and part-time teacher from Cardiff. Worked from a young age for her father who owned a construction firm, but has since dedicated much of her time to bringing up four children. With her construction background she would love to set up a B'n'B in Tuscany. Tracy says: "I'd always expected to have done something for me by the time I was 50 and all of a sudden 50 appeared that hasn't happened" Watch Second Chance Summer on BBC2 from Wednesday, April 5
Get the What to Watch Newsletter
The latest updates, reviews and unmissable series to watch and more!