Meghan Markle would love a job in breakfast TV – watch out Piers Morgan!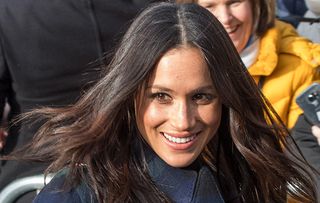 (Image credit: SIPA USA/PA Images)
When we interviewed Meghan Markle back in 2016, no one had any idea that the Suits actress was set to become a high-profile member of Britain's royal family and she told us she'd like a job on breakfast TV!
Meghan Markle is now a firm fixture in the royal family, but when she chatted to us in 2016 for her US drama Suits she revealed that she'd like a job on breakfast television!
When the subject of then Presidential candidate Donald Trump was raised, Meghan said if he became President she'd consider moving to England and go for a job on breakfast telly!
"I don't think my value system is aligned with what Donald Trump would bring to America. If he were to become President, I would consider moving to England," she revealed.
"I love my acting career, but there's a part of me that would love to do some journalistic work. Perhaps I could do something like that in London. Maybe that's the plan – move to London and get a job in breakfast television!"
We were discussing season six of the US legal drama, in particular the romantic misfortunes of her lawyer character Rachel Zane, who had been left broken-hearted when fiancé Mike Ross [Patrick J Adams] was imprisoned for fraud just before their wedding.
Thankfully, there's little chance that Meghan (above as Rachel) will be left standing at the altar in real life. With her marriage to Prince Harry set to take place at St George's Chapel, Windsor, on 19 May, she has already attended her first official royal events and won a place in the public's affections.
So it was no surprise when the 36-year-old announced that she was bowing out of Suits following her engagement. With the New York-based drama resuming its seventh season on Netflix next week, Meghan's last episodes will be screened a few weeks before her big day.
Suits creator Aaron Korsh says he began planning Rachel's exit as soon as he heard of Meghan's romance.
"I knew from about a year ago that this relationship [with Prince Harry] was burgeoning," he reveals. "I had a decision to make, so I decided to take a gamble that these two people were in love and it was going to work out. The whole thing is like a fairytale."
This season will also see the departure of Patrick J Adams, who plays Mike, and there is speculation that the couple might depart for a happy ending.
That's certainly what Meghan hoped for when she spoke to TV&Satellite Week in 2016.
"They could start their own law firm, perhaps a low-key Brooklyn family practice," she mused. "You'd see how Mike has influenced Rachel so that she no longer craves the glamorous Upper East Side lifestyle."
Suits, featuring Meghan Markle, is available from 29th March on Netflix.
Main image: SIPA USA/PA Images. Suits pics Netflix
Get the latest updates, reviews and unmissable series to watch and more!
Thank you for signing up to Whattowatch. You will receive a verification email shortly.
There was a problem. Please refresh the page and try again.