Casualty star Michael Stevenson: 'Casualty's Paramedic Special is an episode that needed to happen'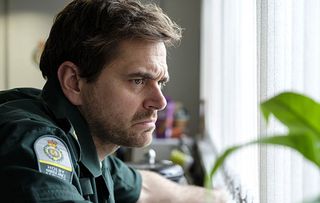 (Image credit: BBC / Alistair Heap)
Casualty star Michael Stevenson talks us through five important elements in Iain Dean's recovery…
No man is an island. Not even "determined-not-to-burden-anyone-ever" Iain Dean. This week in a special Casualty episode about the paramedic's first steps towards recovery from depression, Iain learns the value in leaning on and trusting in those with his best interests at heart.
Here Casualty actor Michael Stevenson, who play Iain Dean, talks us through five people and places integral to Casualty's Paramedic Special…
The 999 emergency call centre
Iain's desperate to get back to work after his traumatic suicide attempt. However his boss Jan Jenning doesn't feel he's ready. So they've struck a deal… If Iain agrees to work at Holby's Communication Centre, Jan will reconsider his return to paramedic duties…
Michael says: "This is an episode where we never go into the hospital. But I think it's one that needed to happen. It's an opportunity to give a nod to the other elements of the emergency services that we never really see in drama.
"We look at the call centre element, how stretched they are and how stressful that job is. The fact is they're dealing with so much before the paramedics arrive at the scene. It encapsulates the emergency services as a whole, rather than just the paramedics turning up.
"Initially, Iain's a fish out of water. It's not his make up at all to be desk-bound and in a room where people possibly know what happened to him…"
Team working through it
Although Iain's back at work, it's an alien environment for the usually active paramedic. Will working in an office environment with a close-knit team be beneficial to Iain's health and wellbeing?
Michael says: "We've factored in the layer of 'do any of the other call handlers know?' Obviously the boss at the call centre, Laura Whitling, knows. But there's an element of Iain on his first day at work with a massive secret, but is it actually a secret? It makes him uneasy.
"Iain also still doesn't really know what he's doing there. He accepts it because, in his mind, the only answer is to get back to work, as he always does. So he puts his head into the work, but it definitely isn't a comfortable environment [for him] in the slightest.
"However, in being in an uncomfortable position he reaps the rewards of finding somebody like Laura (Amanda Hadingue), who he manages to open up to a little bit. He also sees what other people are going through and realises, by being put in that uncomfortable position, that there's a whole other spectrum beyond his personal situation."
Claire days
While Iain's accepted certain steps towards recovery, such as having his sister Gem live with him and taking antidepressant medication, when it comes to talk-therapy he remains resistant. This week all that changes when he meets therapist Claire Wakelins…
Michael says: "Claire used to work in an emergency department so she's seen it and done it. The fact she has that element to her, she basically tells it how it is.
"Claire (Frances Barber) doesn't force Iain into anything but she is firm with him. I think he responds to that quite well. He likes a strong character and he likes to be told how it is…"
Talking care and opening up
There's a lot ex-soldier Iain isn't talking about – the death of his work partner Sam Nicholls, his difficult relationship with mum Kim (Sian Reeves), and his recent suicide attempt, to name a few. Will that change during the course of his therapy with Claire?
Michael says: "Everything about Iain's life has been broad shoulders, take it on the chin, get on with it… He's never had anybody to talk to or examples of what it must be like to talk to anybody.
"What's happened to him over the past year has been a slow build. In therapy [with Claire] post-suicide attempt Iain knows that he has to open up and talk. There's no getting away from it.
"To open up to a stranger – or anybody for that matter – is not Iain's style. But there's no way to face it other than head on."
Family matters
Iain's tragic suicide attempt has shocked those around him, and many don't know how to act or help. This week's Paramedic Special also focuses on Iain's relationship with his little sister Gem (Rebecca Ryan), who has moved into his flat…
Michael says: "This episode covers a whole spectrum. With Gem it dips into the family side of things, the guilt, shame and how to deal with someone post-suicide.
"Gem's moved in with Iain to look after him, which isn't ideal for Iain because, again, he has nowhere to hide.
"Gem can only do her best. And Iain gets to a point where he can accept help from his younger sister, which at one time would have been shameful for him to even think about. We definitely see a turning point here."
If you're affected by any of the issues raised in Casualty please seek help immediately. Advice on support available here
Casualty's Paramedic Special airs on BBC1, Saturday 27 April at 8.20pm.
With twenty years of experience as an entertainment journalist, Elaine writes for What's on TV, TV Times, TV & Satellite Week and (opens in new tab)www.whattowatch.com (opens in new tab) covering a variety of programs from gardening and wildlife to documentaries and drama.
As well as active involvement in the WTW family's social media accounts, she has been known to get chatty on the red carpet and wander into the odd podcast.
After a day of previewing TV, writing about TV and interviewing TV stars, Elaine likes nothing than to relax… by watching TV.
Get the latest updates, reviews and unmissable series to watch and more!
Thank you for signing up to Whattowatch. You will receive a verification email shortly.
There was a problem. Please refresh the page and try again.