Midsomer Murders the first TV show to enter Crime Thriller Awards Hall of Fame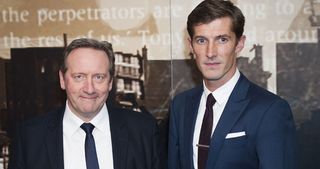 (Image credit: EMPICS Entertainment)
Midsomer Murders has become the first TV programme to be inducted into the Specsavers Crime Thriller Awards (opens in new tab) Hall of Fame.
The accolade – previously awarded to top crime authors such as PD James, Lee Child, Colin Dexter and Agatha Christie – is made in recognition of Midsomer Murders' contribution to the crime genre.
The long-running ITV crime drama was presented with this award at a star-studded ceremony, hosted by Bradley Walsh, at the Grosvenor House Hotel in London last Friday. Coverage of the awards ceremony can be seen tonight (Monday) on ITV3 at 9pm.
Taking to the stage to collect the honours were the stars of Midsomer Murders, Neil Dudgeon, Gwilym Lee and Fiona Dolman along with executive producer Jo Wright.
Jo Wright said: "We are thrilled to be recognised in such a prestigious awards ceremony which celebrates the very best of the crime genre. To be inducted into the Hall of Fame alongside masters of intrigue, suspense and murder-mystery like Agatha Christie and PD James is a huge honour."
Neil Dudgeon, who plays DCI John Barnaby, added: "For fans of crime-writing, like myself, it is fantastic to be in the company of such acclaimed thriller writers and novelists, as well as the stars of other crime dramas on film and TV. To receive this award and be inducted into the Hall of Fame is the icing on the cake."
Earlier this year, Midsomer Murders celebrated its 100th episode with a special film shot in Copenhagen and the UK. Four new episodes will be broadcast on ITV in 2015.
Get the latest updates, reviews and unmissable series to watch and more!
James has worked for What's on TV, TV&Satellite Week and TV Times magazines for more than 20 years. His all-time favourite TV shows (in no particular order) are Inspector Morse (but he refuses to accept The Wench Is Dead), Wallander (the Krister Henriksson version, of course), Our Friends in the North, Studio 60 on the Sunset Strip, and Around the World in 80 Days (Palin not Tennant).
Thank you for signing up to Whattowatch. You will receive a verification email shortly.
There was a problem. Please refresh the page and try again.