'I want to do more musicals!' says former Corrie actor Andrew Lancel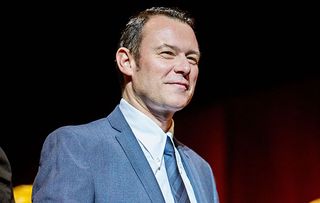 Former Coronation Street star Andrew Lancel talks to Soaplife about his new stage role in Cilla: The Musical…
As DI Neil Manson in The Bill, Andrew Lancel played one of the good guys. In Corrie, Andrew's character, Frank, romanced then terrorised Carla Connor. Now he's in a musical!
What's the story?
Andrew Lancel has moved from the small screen to the big stage to sing for his supper playing pop star manager Brian Epstein in Cilla: The Musical
Andrew Lancel has revealed all to Soaplife
SoapLife: What are you up to, Andrew?
Andrew Lancel: "I'm playing legendary pop music manager Brian Epstein in Cilla: The Musical. Brian was Cilla's manager as well as managing the Beatles and other Liverpudlian groups in the 1960s. The musical is based on the three-part drama, Cilla, that was on TV a few years back, although the musical obviously has many more songs in it."
S: This isn't the first time you've played Brian Epstein, is it?
AL: "No. I played him in the stage play, Epstein: The Man Who Made The Beatles. The Brian in Cilla: The Musical isn't as serious as he was in that, plus I get to sing a couple of numbers."
S: How's that going?
AL: "Fine! I'm loving it. It's only the second musical role I've done. I played Captain Von Trapp in The Sound of Music last year. I hope I'll get to do more in the future."
S: Have Cilla's family given the show their blessing?
AL:"Absolutely. In fact, her son, Robert Willis, is the producer. Her family were all there on the opening night in Liverpool. A personal link for me is that Robert's daughter, Alana, played one of the Von Trapp children in The Sound of Music. I was lucky enough to be invited to the unveiling of Cilla's statue in Liverpool in January. I was reunited with Alana and met her dad."
S: Did you speak about the musical?
AL: "Yes. We spoke about the role of Brian and all the stars aligned to make it happen for me, although it was touch and go for a while."
S: Why was that?
AL: "Because my wife only had our second child, Freya, at the end of August. But the baby's wonderful and so's my wife, and our son, Isaac, adores his little sister."
S: Do you still get family time while you're touring as Brian?
SL: "Yes. I spend as much time as I can with the family. We get Mondays off and so I'm always home from Saturday nights until Tuesdays. Many of the tour venues are quite close to home, so I can drive back after the show."
How long is the tour for?
"Until March at this stage, although there is talk of it going into the West End after that. There is a very special feeling to this production."
Do you still get recognised for playing Corrie baddie Frank Foster?
"All the time. It's either Frank or DI Neil Manson from The Bill. Not that I mind. I loved playing Frank. In fact, being in Corrie is probably the best job I've ever had. But I knew from the beginning that it would only be for about 18 months, so I'd be free to do other things."
Get the latest updates, reviews and unmissable series to watch and more!
Thank you for signing up to Whattowatch. You will receive a verification email shortly.
There was a problem. Please refresh the page and try again.