'My little girl is the best thing ever - apart from Alan,' says ex Corrie star Lucy Jo Hudson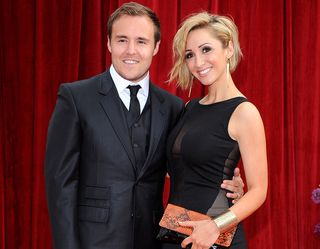 (Image credit: Doug Peters)
Former Coronation Street (opens in new tab) and Wild at Heart (opens in new tab) star Lucy Jo Judson (opens in new tab) talks to Soaplife about life as a mum, going back to work - and maybe having twins…
Motherhood seems to suit you, Lucy Jo...
"It has completely changed my world and I just adore my little girl. She's the best thing ever – apart from Alan [Halsall (opens in new tab), her Corrie star husband]. But the love you have for your baby is very different to the love you have for your husband. I can't believe our daughter Sienna's two. I'm up with her at 7am and don't stop till she's in bed at 7.30 in the evening."
What kind of things do you and Sienna do together?
"All the usual mother-and-baby stuff – swimming classes, music groups, play groups… Sienna's now at the stage where she'll say, 'What are we doing today, Mummy? Who are we seeing?' She's very social."
What about your acting work?
"I've just started looking again. I'm waiting for the right job that will fit in around Sienna. I definitely want to get back to work, but it has to tick all the right boxes."
Which are?
"I'd love a costume drama or something gritty and northern like Happy Valley (opens in new tab)."
What will you do about childcare when you're at work?
"I'll juggle it, like all working mums. Once I've got the job, Alan and I will work round it. Alan's not in a 9 to 5 job at Corrie and I won't be, either. Acting's not like that and I think that makes it easier. We're also very lucky in that we have a fantastic support network. Our parents are a great help and Sienna loves spending time with her grandparents."
No plans to add to the family, then?
"Eventually, but not right now. I'd like to work for a while first. A psychic told me I'd have twins at some point and that's a real possibility as they run in both Alan's family and mine!"
Get the latest updates, reviews and unmissable series to watch and more!
Thank you for signing up to Whattowatch. You will receive a verification email shortly.
There was a problem. Please refresh the page and try again.