Neighbours stars Stefan Dennis and Rebekah Elmaloglou on return of the Alessi twins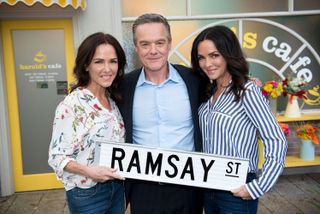 There's DOUBLE trouble in store when twin sisters Christina and Caroline Alessi return to shake-up Paul and Terese's wedding plans on Neighbours!
Earlier this summer, Neighbours announced Gayle and Gillian Blakeney are returning to the long-running Aussie soap, as twin sisters Christina and Caroline Alessi for the first time since 1992.
And the wait is almost over!
In Neighbours on Friday 6th September, Paul Robinson (played by Stefan Dennis) and his fiancee Terese Willis (Rebekah Elmaloglou) elope to Queensland to get married, because they are fed-up with interference from Paul's previous wives Gail Lewis (Fiona Corke), Lyn Scully (Janet Andrewartha) and Rebecca Napier (Jane Hall), who have all mysteriously returned to Erinsborough.
However, it won't be long before Paul discovers DOUBLE trouble has followed him and Terese to their tropical holiday resort in the shape of his third wife Christina Alessi (Gayle Blakeney) and her twin sister Caroline (Gillian Blakeney)!
Neighbours stars Stefan Dennis and Rebekah Elmaloglou reveal what's in store...
What are the chances? ANOTHER of Paul's ex-wives, Christina Alessi turns up!
Stefan: "It's absoloutely shocking! When Paul first sees Christina again it literally tips him over the edge. They haven't seen each other for years. Apart from the occasional phonecall about their son Andrew, they don't really talk."
Rebekah: "You're gonna have to tune in! It's much more complicated than that. Clearly it doesn't go down too well. But there's more to it but I can't say anymore! It's part of a BIG twist that is gonna throw Terese and Paul. But put it this way, there's more to it than just Caroline and Christina coming into town."
Viewers often wonder what ever happened to The Twins! They recorded a single All Mixed Up with Stock Aitken Waterman. But they haven't really been seen on TV since leaving Neighbours in 1992
Stefan: "I haven't had any contact with them for 26 years! They've been living in America. I think Gillian did a few bits of acting but they've both given it up really."
https://www.youtube.com/watch?v=e5n1xKL1oBM
Rebekah: "They're so gorgeous, funny and cute. They were both delightful and we had a lovely time. The last few weeks working on this storyline, we have just had a ball. It was a bit weird for Stefan because he went out with Gayle for two and a half years or something?"
Stefan: "I thought it was going to be really awkward and it wasn't. Gillian came up and gave me a big hug as soon as she saw me and that melted it all away."
Neighbours continues weekdays at 1:45pm and 5:30pm on Channel 5
Get the latest updates, reviews and unmissable series to watch and more!
Thank you for signing up to Whattowatch. You will receive a verification email shortly.
There was a problem. Please refresh the page and try again.