Neil Morrissey: 'Now I'm in my 50s people suddenly realise I can act!'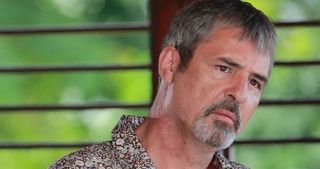 (Image credit: BBC/Red Planet Pictures/Denis Gu)
A contented Neil Morrissey (opens in new tab) talks to TV Times (opens in new tab) about filming in the Caribbean on Death in Paradise (BBC1, Thursday), reuniting with Martin Clunes and waiting three decades to be taken seriously!
Did you have to think about taking a guest role as Disco Biscuit?
"The cast is brilliant, it's a great family show and they were paying me to go to the Caribbean – it was pretty much a no-brainer!"
What's it like filming in the sweltering heat?
"I felt sorry for Kris Marshall, who plays detective Humphrey Goodman, because he had to turn up in a suit and tie, but we were all in linen trousers and floppy shirts.
"We used to strip off between takes and then at the end of the day we'd throw all our clothes on the beach and run into the sea."
You took your girlfriend with you. Did you get time for sightseeing?
"We were out there for 12 days, but I only had to film for five of them, so we travelled around the island and had a good look round. We did some snorkelling and went to some lovely restaurants. The barman in our hotel also took us up to a stunning waterfall. We had to walk along goat paths for 20 minutes to get there, but it was gorgeous."
You've earned great recognition for your part in Line of Duty, how does that feel?
"It's not the only dramatic role I've played, but it's the one that got me noticed and I think it has shifted everyone's perception of me. Now I'm in my 50s people suddenly realise that I can actually act, which is quite handy! So hopefully there'll be more of that in the future."
But you're still thought of as the funny guy...
"I've had a great career with some fantastic roles and I've got no frustrations in this game whatsoever. I just feel lucky that I've been working for 30 years on lots of different types of projects."
Did you enjoy recreating Men Behaving Badly with Martin Clunes for C4's Stand Up To Cancer telethon...
"It was like riding a bike. We did that series for so long and Martin and I were such good pals anyway, even before the show, so we fell into our old routine really easily, it was great. It wasn't difficult because we see each other regularly anyway and the characters are so engrained."
Would you do another series?
"When people ask us if we'd do more, Martin always says it's down to scripts, but really it's pinning Martin down that's the problem! Of course we probably would bring it back if we thought it could work."
Get the latest updates, reviews and unmissable series to watch and more!
Thank you for signing up to Whattowatch. You will receive a verification email shortly.
There was a problem. Please refresh the page and try again.