Netflix riles up subscribers again: Arrested Development leaving streamer in March
Arrested Development is being pulled from the Netflix library, but where is it going?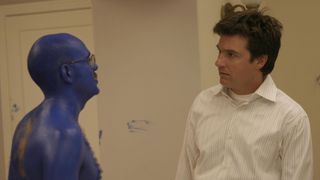 (Image credit: Photo 12 / Alamy Stock Photo)
Streaming giant Netflix is making moves and causing waves yet again, this time among Arrested Development fans. A message to fans on the show's Netflix landing page reveals that the last day the series will be available on the platform is going to be March 14, leaving fans confused and saddened by the show's imminent departure.
The first three seasons of Arrested Development aired on Fox from 2003 to 2006. After it was cancelled, the series found new life at the then-fledgling streamer Netflix, which was in its infancy developing original content. A fourth season exclusive to the platform premiered in 2013 and the Netflix original fifth and final season premiered in 2019.
The series follows a wealthy Orange County family that is left scrambling when real estate magnate and family patriarch George Bluth Sr. (Jeffrey Tambor) ends up in jail after being found guilty of white collar crime. Son Michael Bluth (Jason Bateman) has to step up and keep things moving forward so that the family — and the family business — doesn't fall apart in his father's absence. It's an unwelcome dose of reality for the spoiled and out of touch family.
Arrested Development earned a number of awards and nominations during its initial run, including a Primetime Emmy win for Outstanding Comedy Series in 2004. Despite the show's warm reception from critics and the cult status it achieved from fans, Fox decided not to continue the series beyond the third season.
When Netflix gave the series another lease on life, the show's fans were elated. The fourth season featured a departure from the original format, with episodes focusing on individual characters rather than the ensemble, but things returned to normal in season 5 as the series came to an end — albeit a dark end.
News of the series removal from Netflix has fans wondering how they'll be able to watch the series moving forward. The first three seasons are currently available to stream on Hulu, but the fate of seasons 4 and 5 remain uncertain. Is the removal temporary, or is Netflix hoping to license the fourth and fifth season to Hulu?
Here's what fans are saying about Netflix pulling Arrested Development from its library:
Arrested Development fans react to show leaving Netflix
Arrested Development remains on Netflix until March 15. However, the first three seasons are also currently available to stream on Hulu.
Get the What to Watch Newsletter
The latest updates, reviews and unmissable series to watch and more!
Editorial Content Producer
Sarabeth joined the Watch to Watch team in May 2022. An avid TV and movie fan, her perennial favorites are The Walking Dead, American Horror Story, true crime documentaries on Netflix and anything from Passionflix. You've Got Mail, Ocean's Eleven and Signs are movies that she can watch all day long.
When she's not working, Sarabeth hosts the My Nights Are Booked Podcast (opens in new tab) and blog (opens in new tab) dedicated to books and interviews with authors and actors. She also published her first novel, Once Upon an Interview (opens in new tab), in 2022.