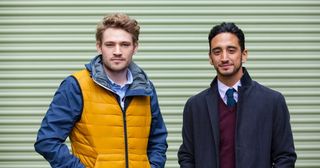 (Image credit: BBC/11TH HOUR FILMS)
New Blood's Rash and Stefan have sent pulses racing, but they're not the only hot detectives on TV...we take a look at a few others.
DC RASH SAYYAD (Ben Tavassoli) AND STEFAN KOWOLSKI (Mark Strepan) New Blood's new kids on the block, Detective Rash Sayyad and fellow investigator Stefan Kowolski are both competitive, and they win hands down in the hot detectives stakes.
DCI JOHN LUTHER (Idris Elba) If it's a brooding detective you're after, then Luther's your man. The London cop is driven and consumed by the darkness of the crimes he deals with. Combine that with a selection of nice ties and a healthy display of beardage, Luther = HOT.
DI JIMMY PEREZ (Douglas Henshall) There's an appealing sadness behind Jimmy Perez, a widower who fights crime on Shetland. His life seems as bleak as the landscape, with a drab jumper to match. But he's kind and caring and who doesn't love a bit of ginge?
DS STEVE ARNOTT (Martin Compston) Line of Duty's terrier detective, DS Arnott is like a dog with a bone when solving cases. But after being fitted up for crimes he didn't commit, the normally tough cop let the emotion flood out when saved by his colleague DC Kate Fleming.
DC ENDEAVOUR MORSE (Shaun Evans) After dropping out of Oxford University, Morse joined the police force, but always seems unhappy in his role. Many a lady has crossed his path, yet still none have managed to put a smile on his face so far…
DS MATT DEVLIN (Jamie Bamber) Cheeky DS Devlin brought energy and enthusiasm to Law & Order. Flirty and charming, there was a definite twinkle in Matt's eye — which was tragically snuffed out when he was shot dead!
DCI TOM MATHIAS (Richard Harrington) Living in a caravan on a cliff overlooking Aberystwyth, the troubled Hinterland detective is struggling with his demons after the death of his young daughter. He just needs the right shoulder to cry on…
DI EDMUND REID (Matthew Macfadyen) Oh, what a dapper suit and bowler hat does for a chap! One of the best turned-out hot detectives on telly, DI Reid brings a suave panache to solving grisly, bloodythirsty crime.
DETECTIVE JIMMY MCNULTY (Dominic West) Likeable bad boy copy Jimmy McNulty from US series The Wire oozes naughty! His personal life's all over the place, but deep down he has a good heart. You just wouldn't want to marry him!
SHERLOCK (Benedict Cumberbatch) Not a police officer, but the world's greatest detective, super sleuth Sherlock's aloof manner and absolute confidence gives him a special allure.
DS DAN SCOTT (John Hopkins) With a chiselled jaw and broad shoulders, DS Scott had a striking screen presence as Barnaby's assistant in Midsomer. A cocky Londoner, DS Scott was always prepared to use a bit of muscle when necessary…
BODIE (Lewis Collins) A blast from the past, Bodie earns his place on the hot detectives list due to smouldering his way across many a car bonnet in The Professionals in the Seventies. No one could rock the roll-neck look like pouting Bodie!
Get the What to Watch Newsletter
The latest updates, reviews and unmissable series to watch and more!