New Netflix series and films – the shows YOU CAN'T MISS coming soon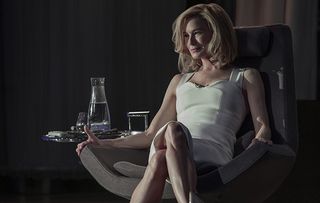 (Image credit: Adam Rose/Netflix)
What/If, starring Rene Zellweger, is just one of the top shows coming soon to Netflix...
From Uma Thurma and Rene Zellweger to Tina Fey and Tom Ellis, there are plenty of big stars to see in new Netflix series, movies and shows over the next few weeks. Here's our pick of the bunch…
Here's our pick of the new Netflix output...
What/If - Friday 24 May
https://www.youtube.com/watch?v=vQcPqm3EqY8
Oscar-winner Renee Zellweger stars in this 10-part anthology series that explores "the ripple effects of what happens when acceptable people start doing unacceptable things". The series focuses on struggling San Francisco newlyweds who are offered some much-needed money from a wealthy and powerful businesswoman – only for the proposal to come with some serious strings attached.
Chambers - Friday 26 April
Uma Thurman becomes the latest Hollywood star to make their Netflix debut in this 10-part supernatural drama. It's the chilling story of a 17-year-old transplant patient, Sasha, played by Sivan Alyra Rose, whose life is saved when she receives the heart of a teenage prom queen, Becky, after she dies in an accident. But despite Sasha's joy at the chance to start a new life, she soon starts to suffer from disturbing side effects. Thurman plays Becky's wealthy mother Nancy, with Scandal's Tony Goldwyn as her husband Ben.
Dead to Me - Friday 3 May
Christina Applegate stars in this dark comedy as newly widowed Jen, who loses her husband in a hit-and-run incident. While attending a grief support group she meets the free-spirited Judy (Linda Cardellini), who has suffered her own tragic loss. The pair bond over their grief, but Judy has a mysterious past and seems to be hiding a big secret. "The series is very dark, emotional, sad, and often times funny," says Applegate. The series is executive produced by her Anchorman co-star Will Ferrell.
iZombie - Friday 3 May
The comedy-drama returns for a fifth and final season with the action returning to the walled city of New Seattle – where the US government is trying to contain a zombie outbreak – after the game-changing season-four finale which saw crime-solving zombie Liv's showdown with military man Chase. "We are so glad we have another series to resolve all the storylines," says showrunner Rob Thomas. "We're going to give some sort of answer to the fate of zombie kind."
Tuca & Bertie - Friday 3 May
BoJack Horseman producer Lisa Hanawalt is behind this equally quirky animated series which follows the friendship between two 30-year-old "bird women" living in the same apartment building. Tiffany Haddish voices Tuca, a cocky, care-free toucan, and Ali Wong is Bertie, an anxious, daydreaming songbird. Among the voice cast is Richard E Grant and The Walking Dead's Steven Yeun.
Lucifer - Wednesday 8 May
After being cancelled by FOX, fans campaigned to save the fantasy comedy-drama – and Netflix has picked it up for a fourth season, split into two parts. As we rejoin, Detective Chloe Decker (Lauren German) is struggling to come to terms with Lucifer (Tom Ellis) revealing his true devilish face. "Chloe and Lucifer are like Beauty and the Beast but in reverse," says Ellis. "Chloe met the prince and now the beast has come out. What happens next?"
The Society - Friday 10 May
The intriguing 10-parter is inspired by Lord of the Flies and follows a group of US teens who are mysteriously transported to an exact version of their wealthy New England town – except for the fact that it has no trace of their parents. As chaos and violence breaks out, they try to figure out how to get home, and form friendships and alliances in order to survive. Big Little Lies' Kathryn Newton plays Allie, and Fargo and Legion's Rachel Keller plays her older sister Cassandra.
Wine Country - Friday 10 May
Some of the funniest women in American comedy star in this film about a group of long-time friends who take a boozy trip to California's wine country to celebrate a 50th birthday. It stars Amy Poehler, Tina Fey and Rachel Dratch and sees the characters try to relax and reconnect away from the demands of work, motherhood and health issues. "It's loosely based on a trip we all took a few years ago to celebrate Rachel's 50th birthday," says Poehler. "We are not playing ourselves, but we did put some real events in the film, like dance parties in the living room and teary conversations in the hot tub."
When They See Us - Friday 31 May
Featuring Felicity Huffman, Michael K Williams and Vera Farmiga, this dramatisation follows the notorious 1990 case that saw five teenagers from Harlem wrongfully convicted of raping a female jogger in New York's Central Park. It is Selma director Ava DuVernay's second project for Netflix (following her acclaimed documentary 13th, about mass incarceration in the US) and will explore the teenagers' long fight to prove their innocence.
Tales of the City - Friday 7 June
Based on the books by Armistead Maupin, this 10-part series continues the story of Mary Ann Singleton (Laura Linney) who returns home to San Francisco and is reunited with her daughter Shawna (Ellen Page) and ex-husband Brian (Paul Gross) 20 years after leaving them behind to pursue her career. Now having a midlife crisis, Mary Ann is drawn back into the wonderful world of Anna Madrigal (Olympia Dukakis) and a new generation of eccentric residents living at 28 Barbary Lane.
More new Netflix shows will be added when they're announced.
Get the latest updates, reviews and unmissable series to watch and more!
Thank you for signing up to Whattowatch. You will receive a verification email shortly.
There was a problem. Please refresh the page and try again.