Nicole Scherzinger: 'The afterparty will be wild after the X Factor final!'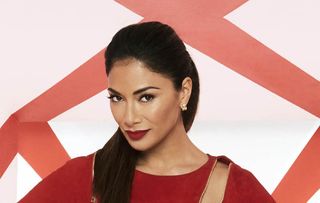 (Image credit: ITV / Thames / Syco Entertainmen)
As the final three prepare to sing their way to the title of X Factor champion 2016, Nicole Scherzinger talks about the big night, her highlights of the series and what she REALLY thinks of Honey G...
On Saturday night, the stage will be set at London's Wembley Arena for the final of The X Factor 2016. Nicole Scherzinger reveals why it will be sch-amazing…
What do you love most about the X Factor final? "The X Factor final is massive. It's such a huge, celebratory event and we always go much bigger with the production and the performances. I remember playing at Wembley Arena with The Pussycat Dolls – the energy is just unbelievable."
Your boy Matt Terry has made it to the final - what advice have you given him on how to handle his nerves on the night? "All the contestants have months building up to this moment and, it's like anything in life, if you want to succeed, then it's all in the preparation. You can't half-ass anything."
A favourite since the start, can Louis Tomlinson lookalike Matt Terry go all the way and win The X Factor?
What does it take for someone to win The X Factor? "To win the final, you have to create a real 'moment', so song choice is everything. You have to pick a song that really defines who you are and who we are capturing as a recording artist."
The lucky winner will receive a lucrative recording contract. Having enjoyed global success yourself, what advice would you give them about surviving in the music business? "The music business is hard, especially in this age of the internet, as there are so many ways people are oversaturated with music. Times are changing, so you have to always reinvent yourself and that's challenging."
Let's talk about the series in general - is there another mentor's act you would have liked to steal throughout the competition? "I'm reluctant to say Five after Midnight because, even though they have lots of potential, I think Louis is better at mentoring groups than I am. Maybe Emily because I see a lot of potential in her and I always tell Simon I know what she's capable of - we saw that in Halloween week. There are so many song ideas I have for Emily - I'd love to get my hands son her."
The contestant everyone's been talking about this series is rapper Honey G. What do you REALLY think of her? And do you think she deserved her place in the competition? "This show has never just been about the voice, it's about the personality, charisma and the connection someone can make with the audience. I'm not gonna lie, in the beginning I was like: 'Aww, this is cute and fun" but then I thought, honestly, in the live shows she stepped up her game and improved every week. The public were drawn to her, so they voted."
The controversial rapper made it through week after week until she was eliminated at the quarter finals
Have you enjoyed being a judge on the show this year? "Oh we've had so much fun on the panel this year. I don't look at the ratings, I just go with my gut feeling and put my heart into the show every single week. That was one of the ways Simon convinced me to come back. He said I just want to have fun, and that's exactly what we're doing. We genuinely all are like one big, happy family."
There have been lots of laughs on The X Factor judging panel this year
Would you do another series? "Yeah, I'd consider it but Simon would have to beg me again! I do miss having Gary Barlow on the panel but I think that myself, Louis, Sharon and Simon are a natural line-up. Simon's been on good form and his energy is great for the entire panel. Mrs O and Louis always bring it too. There's just an overall good, natural feeling. I always have my nerves but I enjoy coming into work. I love what I do."
Will all the judges go out celebrating after the final? "Oh yeah, we'll be toasting, cheering and having fun. We actually get together every week and break bread after the show but I think it's going to be wild and a lot of fun after the final. Nothing can beat the afterparty Gary had for us last time we were all together. That was pretty major and epic so Simon has got to bring it!"
The X Factor final screens on Saturday December 10 and Sunday December 11 at 8pm on ITV.
Get the latest updates, reviews and unmissable series to watch and more!
Thank you for signing up to Whattowatch. You will receive a verification email shortly.
There was a problem. Please refresh the page and try again.