'We've waited five years for this moment!' says Ninja Warrior host Ben Shephard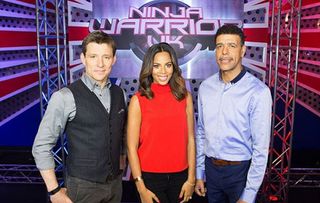 A competitor becomes the first in the show's history to take on the mighty Mount Mirdoriyama in this year's fifth series...
Some impressive athletes, including a few Olympians, have taken on the famous Ninja Warrior UK assault course over the last five years, but no one's ever made it past the obstacles to the foot of Mount Mirdoriyama – until now!
This year's fifth series sees a competitor become the first in the show's history to reach the prestigious final challenge, but can they scale the colossal peak and be crowned as the UK's first Ninja Warrior?
With a fresh course set to challenge the contestant's strength, speed and courage, a new batch of hopefuls and some heroes from past series will attempt to complete three gruelling stages and make it to the final in this eight-part series.
Hosts Ben Shephard, Chris Kamara and Rochelle Humes could barely conceal their excitement at the rip-roaring action to come when we caught up with them for a chat…
What was it like to see someone finally take on Mount Mirdoriyama?
Ben – "We've waited five years, tens of thousands of people have applied, a thousand people have taken on the course, so it was amazing to see it finally happen. We've got close over the years and the last men standing have been getting closer and closer, but to have someone finally complete the course was special. Kammy nearly exploded when he got to that point, just because we've waited so long!"
What was it like when the last person standing person took on the mountain?
Kammy – "The audience went absolutely wild when they finished the course and it was like a tidal wave of emotion, but you could have heard a pin drop as they prepared for that ascent. We've done a few practice runs over the years, but this was the first time it had ever happened for real so no one knew what was going to happen. I was holding on to Ben because I couldn't concentrate!"
Where were you when this year's winner made their summit attempt, Rochelle?
Rochelle – "I was at the very top of Mount Mirdoriyama in a harness, hoping they'd make it to the top! They measured me for the harness when we did the first series, but this is the first time I've ever had to actually wear it and I've had a baby since the original fitting so it was a bit tight! I was glad though, because it's really high when you get up there!"
Were the other competitors cheering them on?
Kammy - "Yeah they were. Maybe some of them were thinking: 'It could have been me' or 'It should have been me!' But they were all 100% behind the competitor."
Ben – "We're trying to find the UK's first Ninja Warrior, but they're not competing against each other, they're competing against the course. So there's this collective group of ninja girls and boys that are just willing each other to go as far as they possible can. There's a great sense of community about it!"
Do you think this could be a watershed moment for the show?
Ben – "The standard is getting better every year and seeing someone get to this stage for the first time will just spur everyone on. Sometimes you need to believe the impossible is possible. Everyone thought the four-minute mile was impossible until Roger Bannister did it and now thousands of people have done it. On the American version of the show no one made it to the top of mount Mirdoriyama for seven years and then two people did it on the same night!"
Have you noticed the standard getting better every year?
Chris – "Oh definitely. We're invested in all the competitors and we want them to do well, so it's heart breaking when they go out early. But if you don't respect the course, it won't respect you. Sometimes people who've done well in the past come back and want to show how good they are and how quickly they can do it and the course bites them in the bum. We've seen so many former winners make mistakes and fall away."
Why do you think people love this show so much?
Rochelle – "I think it's something you can watch it as a family, with your nan, your kids and everyone. I always think that 'Shout at the telly' shows and whether you want to cheer them on or you think it's funny when they take a tumble, it doesn't matter because it's great fun."
Can the competitors hear your commentary when they're on the course?
Ben - "During the first few series they couldn't, but now they can and they always say that I laugh with them and Kammy laughs at them! That's all part of the fun of it, because this is a serious competition with top-notch athletes, who are absolutely at their peak in terms of physical condition, but it doesn't take itself too seriously and we can enjoy that part of it.
"The energy and enthusiasm that comes from the three of us and that feeds off the audience is really important. Undoubtedly the ninjas that come on and take part love that side of it as well and there's a great tone and sense of humour to it.
Did any of this year's celebrities come close to completing the course?
Ben – 'Some of them did very well and were great entertainment. We had some really fit athletes like, snowboarder Aimee Fuller, Dancing On Ice winner Jake Quickenden and skater Sylvain Longchambon on this year, but the adrenaline you feel when you're standing on the start line can get to you, even if you perform in front of thousands of people for living!'
The fifth series of Ninja Warrior begins on Saturday 15th April on ITV.
Sean has been writing about all things telly for over 10 years and in that time he's been lucky enough to interview stars like Ian McKellen, Tom Hardy and Kate Winslet. His favourite shows are The Great British Bake-Off, People Just Do Nothing and Succession and in his spare time he enjoys drinking tea, doing crosswords and watching football.
Get the latest updates, reviews and unmissable series to watch and more!
Thank you for signing up to Whattowatch. You will receive a verification email shortly.
There was a problem. Please refresh the page and try again.