On location | Oakley Court | The house that screamed and screamed again in classic British horrors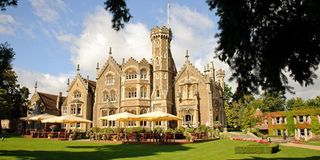 It's been home to Peter Cushing's Baron in The Curse of Frankenstein, Boris Karloff's secretive horticulturist in Die Monster Die, and Lon Chaney's Satanist in Witchcraft. It's witnessed Frankie Howerd being stalked by an axe-wielding Ray Milland in The House in Nightmare Park (read Pete's review here), caused Stephanie Beacham to have nightmares in And Now the Screaming Starts, and seen Donald Pleasance conducting strange experiments on Doctor Who's Tom Baker in The Mutations. It's also housed lesbian bloodsuckers (Vampyres), evil gardeners (The Night Digger) and all manner of Riff Raff from 1975's Rocky Horror Picture Show.
Welcome to Oakley Court. Situated on the River Thames in Windsor, Berkshire, London, this Victorian Gothic mansion was built in 1859 for Sir Richard Hall Say, the High Sheriff of Berkshire, and changed hands a few times until 1919, when it was purchased by Ernest Olivier (who lived in the house until his death in 1965).
When Bray Studios (which was used by Hammer Films) moved next door in 1955, Oakley Court became a most convenient setting for a host of films over the next two decades. Today, Oakley Court is a popular hotel hosting year-round events (our Pete visited it over the last May Bank holiday), and doesn't shy away from its horror heritage. Here's a list of the films that have been made there. How many do you remember?
FILMS SHOT AT OAKLEY COURTMan in Black (1949)The Lady Craved Excitement (1950)The Curse of Frankenstein (1957) Read Pete's review hereDracula (1958) Read Pete's review hereThe Brides of Dracula (1960)Siege of the Saxons (1963)The Old Dark House (1963)The Evil of Frankenstein (1964)Nightmare (1964)Witchcraft (1964)The Scarlet Blade (1964) Read Pete's review hereDie Monster Die (1965)The Reptile (1966) Read Pete's review hereThe Plague of the Zombies (1966) Read Pete's review hereThe Projected Man (1966)Mumsy, Nanny, Sonny & Girly (1970)Au Pair Girls (1972)And Now the Screaming Starts! (1973)The Mutations (1974)Dracula (1974 TV Movie)Vampyres (1974)The Rocky Horror Picture Show (1975)Murder by Death (1976)Murder by Decree (1979)The Wildcats of St. Trinian's (1980)
For more great London spots used in classic British horror films, check out Derek Pykett's British Horror Film Locations.
Get the What to Watch Newsletter
The latest updates, reviews and unmissable series to watch and more!