On this day in 1946 | Burt Lancaster shot to stardom in the noir thriller The Killers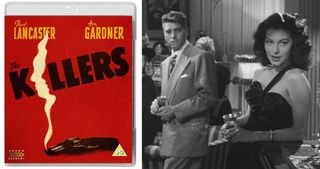 Did you that that on 28 August 1946, Robert Siodmak's The Killers had its New York premiere ahead of its general US release on 30 August?
With its marvellously intricate plot, thundering drama throughout and a mighty punch in the final scene this first film version of Ernest Hemingway's laconic short story, The Killers, (remade 18 years later with Lee Marvin) is an all-time film noir classic.
As washed-up boxer turned hitman victim Ole Swede Andreson, Burt Lancaster made his screen debut, and was catapulted to stardom, not least for the screen chemistry that he showed opposite sultry Ava Gardner, whose Kitty Collins is the very personification of the femme fatale. In the pivotal role, Edmond O'Brien gives an excellent performance, while Jack Lambert plays it menacingly. Two then newish actors, William Conrad (later to find television fame as Cannon) and Charles McGraw, register solidly as the killers of the title.
German émigré Robert Siodmak then at the peak of his Hollywood career, ensures that the nervous tension never lets up from the first moment that the killers move on to the scene, while Elwood Bredell's shadowy cinematography elevates the film into the realms of pure cinematic art.
In 2014, the film noir classic was given a stunning HD restoration and is now available on Blu-ray and DVD from Arrow. Here's what's in the box.
• The 2014 Arrow Blu-ray/DVD release features a restored High Definition (1080p) presentation of the film, transferred from original film elements by Universal, with original uncompressed PCM mono 1.0 audio and optional English subtitles
• Isolated Music & Effects soundtrack to highlight Miklós Rózsa s famous score
• Frank Krutnik on The Killers, a video piece by the author of In a Lonely Street
• Heroic Fatalism, a video essay adapted from Philip Booth's comparative study of multiple versions of The Killers (Hemingway, Siodmak, Tarkovsky, Siegel)
• Three archive radio pieces inspired by The Killers: the 1949 Screen Director's Playhouse adaptation with Burt Lancaster and Shelley Winters; a 1946 Jack Benny spoof; the 1958 Suspense episode Two for the Road which reunited original killers William Conrad and Charles McGraw
• Stills and posters gallery,
• Trailers for The Killers, Brute Force, The Naked City and Rififi
• Artwork by Jay Shaw
• Collector's booklet containing new writing and archive interviews
Get the What to Watch Newsletter
The latest updates, reviews and unmissable series to watch and more!