Ophelia Lovibond: 'There's plenty of scope for more W1A'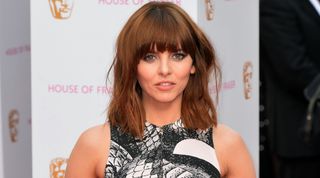 Ophelia Lovibond, who plays PA Izzy Gould in W1A, has revealed her hopes for a third series of the BBC2 comedy.
The actress is keeping her fingers crossed that she will reprise her role following the end of the second series last Thursday (14 May).
Ophelia Lovibond as Izzy Gould, Jonathan Bailey as Jack Patterson and Hugh Skinner as Will Humphries (BBC/Jack Barnes)
"I haven't (heard any news) yet. There's so much mileage in this idea… and I think there's definitely mileage for more in there," she said.
"I hope there is another one. It feels like there are more jokes to be told in there and it's such an enjoyable job that I'd like to do again."
The 29-year-old star said she is keen to find out what the future holds for her character.
"The way John (Morton, creator) has developed the character is quite incremental. Izzy is very ambitious and she wants to climb within the company as much as she can," she explained.
Ophelia Lovibond and Hugh Skinner (BBC/Jack Barnes)
"I'm interested to see whether she compromises on her ethics or not, because she's so protective of Will despite his ineptness. So I'd be curious to see if she becomes more protective or less, and how far she climbs."
She added: "There's a lot of scope and a lot going on. It'll be interesting to see what else John can foretell."
Hugh Bonneville and Jessica Hynes also star in W1A, the follow-up to Olympics comedy TwentyTwelve, with Jessica winning a Bafta for the performance as BBC Brand Consultant Siobhan Sharpe.
The show is shot inside the real BBC offices.
http://www.youtube.com/watch?v=mn0ZM3VClZo&feature=oembed
"It's quite surreal. We get people walking into shot all the time but it just added to the realness of it," Ophelia said.
"They weren't flustered by it. I was quite impressed with how they would walk in, glance in your direction and carry on with what they're doing rather than staring down the barrel of the camera. You do get a lot of real BBC employees in the background getting on with their work. It's often not clear who the supporting artists are and who are real people who work at the BBC to us or the viewers."
Ophelia continued: "I was conscious of being a distraction – I didn't want to be, so I didn't want to get in the way. But people did not seem to be at all fazed by us being there.
"In one episode, we were filming in the busy newsroom and you can't ask people to be quiet because they're working, but it did make it more [authentic]. We were having to talk more loudly above the hubbub of what's going on but it made them speak more loudly."
Both series of W1A will be available on DVD on 18 May.
Get the latest updates, reviews and unmissable series to watch and more!
Thank you for signing up to Whattowatch. You will receive a verification email shortly.
There was a problem. Please refresh the page and try again.